Famous Magazine (that should say it all right there) claims Robert Pattinson has left Kristen Stewart for Caitlin Cronenberg, daughter of David Cronenberg who is the director of Cosmopolis.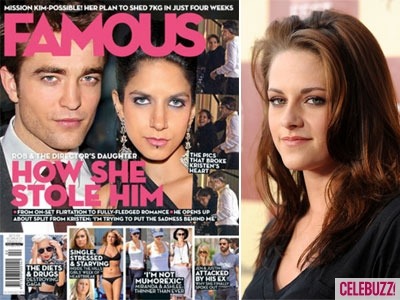 "She's just his type – artistic, dark and a little moody. Not too different from Kristen," an insider claims to the tabloid.
Well, sources tell Celebuzz the story is definitely "not true."
While we hear Rob and Caitlin are friends who hang occasionally on and off set in Toronto, there is nothing fishy going on there. She is shooting the still photography for the film. Caitlin took this awesome shot of Pattinson and costar Sarah Gadon, whom he's also been falsely linked to.
In fact, things are "just fine" in the land of R.Pattz and K.Stew.
"It's not like they haven't worked apart before," our source assures.