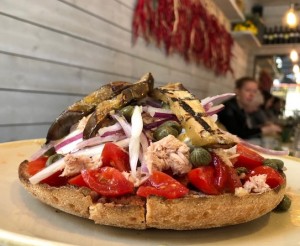 London has many Italian restaurants. However, one restaurant is starting to stand out for the rest thanks to the amazing story of 'Pane Cunzato', a restaurant based on inspiration of the Aeolian Island of Lipari.
The Aeolian islands are a collection of 7 islands just off the north coast of Sicily, each with different charactersics which makes them different from one another. The largest of these islands is Lipari, where the signature dish is 'pane cunzato', a dish that uses tumminia flour as against normal flour due to its long levitation and it is a traditional Sicilian ingredient.
The restaurant Pane Cunzato takes inspiration from the island of Lipari, including all the food and decor. The colour of the wall is set to match the pumice stone and all ingredients are imported directly from Sicily to give their dishes the authentic sicilian taste.
The undisputed protagonist is definitely cunzato bread, a typical dish from Sicily that can be tasted on every part of the island, albeit with different shades of ingredients, colours and flavours. It consists of a lightly toasted base and is seasoned on top with fresh, uncooked ingredients (buffalo mozzarella, onion, tuna, tomatoes, capers, etc.)… in short, it's exquisite! This dish reflects and encompasses the philosophy behind the restaurant: "we believe that only fresh and little-handled ingredients can retain all their nutritive properties and thus their taste and flavour."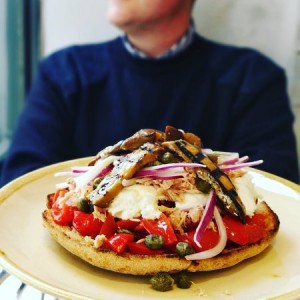 The menu explores an array of dishes from the signature dish, Pane Cunzato to Lasagna, each as carefully thought out as the next. The wide variety of Pane Cunzato dishes to choose from means that there is something for everyone, hot or cold, meat or vegetarian, savory or sweet. Of course, as an Italian restaurant, there is a wide choice of pizza available as well. The other mains are more refined, ensuring that each dish is crafted to represent true and authentic Italian food, without an 'english twist' some might say.
Pane Cunzato provided the catering for the 8th Annual Reality TV Awards, which took place last month at Porchester Hall in London. Owner and Manager, Fabrizio Famularo cooked up a storm with the help of his talented team made up of top chefs and waiters to serve the 350 VIP guests in attendance at the awards, receiving praise and compliments from all those who ate. Pane Cunzato sponsored the Best Food Show Category, which saw The Great British Bake Off take home the win.
To book a table please visit the Pane Cunzato website:  http://panecunzato.com
Or call them on 0203 581 1747
They are located at 49 Museum St, WC1A 1LY, London
Opening and closing times:
Monday: 12:00 – 21:30
Tuesday: 12:00 – 22:00
Wednesday: 12:00 – 22:00
Thursday: 12:00 – 22:00
Friday: 12:00 – 22:00
Saturday: 12:00 – 22:30
Sunday: 12:00 – 21:30