Minolta Araya recalls her earliest memories of block parties, fireflies, gunshots and grandmas' yelling to get inside before the porch lights come on. An Eritrean-American artist born in Queens, NY, her parents introduced her to Motown on an old record player. At the age of five, Minolta won a scholarship to study at Dance Theatre of Harlem. She soon developed a deep love of art and expression, publishing her first poems as a child. Minolta moved to North Carolina as a teenager where she began playing guitar. She then travelled alone in a SUV camper up and down the East Coast of America; writing and performing. Back in New York, she continued performing vocals with Indie bands, including Black Peter Group, at art collectives and warehouses across the city. Minolta then found her way to Los Angeles, CA competing on America's Next Top Model and ranking in the Top 20.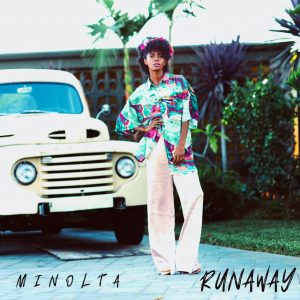 Making her home in L.A., Minolta met producer Sebastian Pringle of @CrystalFighters . Her sweetly raw vocals meshed well with his dance beats and they traveled to London to record multiple tracks. She was then featured as a finalist in artist @Desiigner verse competition for his single "Overseas". Her video gained over 40,000 views.
Currently based between London, UK and Los Angeles, CA; Minolta is writing, recording and performing. She recently won first place at PoENtry Barcelona Poetry Slam. Minolta's latest single "Runaway" is set for release in June 19th 2020 with an accompanying video from filmmaker Andrew Dyck . We decided to catch up with her for an interview.
What inspired you to get into music?
I started writing poetry and dancing when I was very young and I was fortunate that my parents introduced me to legendary music early on. Motown hits played on repeat on an old record player and I was drawn to the idea of that expression. I saw music as loud and powerful; I wanted to create, to be a part of that. I was a very timid child and music was a way for me to feel heard.
How would you describe your music?
I would describe my music as highly vibrational. Indie, Hip Hop, clouds.
What would you say is your recording and song writing style?
Much of my music stems from poetry, in my writing I try and tell stories; I want people to come on a journey with me. I have had the honour of working with artists from all over the world and I try to bring those different vibrations together in harmony. My writing sessions are usually just myself and a producer out in nature with a guitar and a mic; sometimes on the demos you can even hear the birds. Then I recreate the recordings in studio.
Where would you like to see your music career in 5 years time?
I adore festivals; the culture, the music, the celebration of it all. I would love to perform at as many festivals as possible when the world heals and we begin to gather again. I also plan to collaborate with even more artists, from all over to make new tunes. I would like to see my music reach a wider audience, I'd love to hear it on BBC Radio1.
Where can music fans listen your music?
Anywhere music is available! I am on all major streaming platforms and youtube. Follow me on Instagram @minoltaaraya for the latest updates.
This is the link to Pre-save "Runaway" now on Spotify, it will automatically be added to your playlist when it is released this Friday.
For more info. on Minolta . Visit the links below;