Upon the long conveyor belt of talent that exists within London's shores, exceptional talent can sometimes be a rare find. In Benezer's short but burgeoning career, the South-London based rapper's eclectic and enigmatic style has set himself hugely apart from his peers, both sonically and aesthetically. The 'Stay Ultra' aficionado has already amassed himself a cult following, which continues to grow day by day. Throughout his organic rise in profile, he has primed himself on producing music that regularly pushes the envelope and expands beyond the traditional parameters of contemporary UK hip-hop. Benezer's new single 'Missions' is one that really showcases his songwriting skills. Hip Hop especially the UK Hip hop industry has come a long way pioneered by artists such as Roots Manuva, Skinnyman, Rodney P, Blak Twang, and the late great TY.  Benezer continues from the long line of successful artists but manages to define his unique style on Missions. We decided to catch up with him for an interview..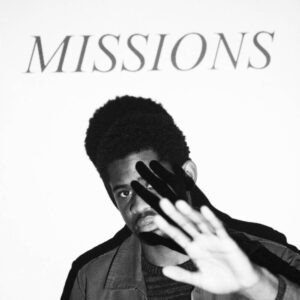 What inspired you to get into music?
I got into music quite playfully. I was with a few friends chilling with at my friend Mave's house. He has his own home studio and is also a producer/engineer. So, we decided to just make a song because he had the set up and some beats. So, we started freestyling and I found myself enjoying the vibes and the process and my interesting in music really picked up from there. I have always been a big fan of rap music, so it was quite an organic transition into becoming an artist.
How would you describe your music?
In one word I would say my music is "refreshing". In all my songs I try to find ways to be different and stand out. I suppose it derives from my character as a person because I just be myself in every scenario and people seem to gravitate towards my authenticity.
 What would you say is your recording and songwriting style?
My process normally begins with production. So, I work primarily with two producers, Niko and JDP. They will send me a beat and depending on the vibe of the song and what type of mood I am in at the time I will start writing based on that. I like to develop songs in context of a project too so if there is a theme in the project then I'll stick to that and make it relevant. Then once I've got a first draft, I'll voice note it on my phone and send it back to my producers. Then I'll listen to it like 100 times myself and digest the song to see if it flowing as a whole, also pick out parts I don't like, start to think about adlibs and layers too that I'd want to add when I do get around to recording it.
I actually like to write while taking walks a lot too. I'll just walk through London locked in, thinking and writing. Most of the process is done outside of the studio. For me the studio is literally the last part of my puzzle, like I'm not going to be in the studio before I have something written down and ready to lay. Unless I'm collaborating with another artist but for my own songs, that's typically how it goes.
Where would you like to see your music career in 5 years' time?
In five years I want to be bigger than the Migos, in a market where me and my team are just dominating like The Neptunes back in the early 2000's. I read in an article that they had produced about 45% of the music on the US radio at one point. That's the type of influence I want me and my team to have.
Where can music fans listen to your music?
You can find my music on all major streaming outlets, Spotify, Apple music etc. Find my music videos on the Stay Ultra Youtube Channel. Also follow me on Instagram, @benezer and on Twitter @benezerbenezer. Love.