Very so often, an artist comes along that certainly sets the trend for others to follow. Born in the Caribbean, and living in New Zealand Manu Francois is certainly that artist who has definitely found his balance and this speaks right through to his music. Listening to a few tracks from his forthcoming new album "Ten Of A Kind" you are left with a unique sense that he has definitely provided the world with a masterpiece. The album also features artists from NZ and abroad (including his brother Mongstar who lives in St. Lucia in the Caribbean  on the track Ride Up) . Manu Francois beautifully maps his desires on 'Ten of A Kind' .  It's been a rare breather for one of the hardest-working artist in New Zealand  seeing Manu Francois at his most optimistic, as the man from the Caribbean now New Zealand decides to send out a positive message especially in the song 'Invincible'  showing that we are body but more importantly we are souls and our souls will always be Invincible no matter what happens to our body. In  Free Bird (ft. Maria Flores) you still got the spaced-out melancholy that always fills his sound, as he clocks some serious heavenly hours with lyrics which are much needed now as the whole world goes through lockdown.
Talking about the lockdown Manu himself commented "This Quarantine has been super productive and i  have not only completed my album "Ten Of A Kind" in collaboration with LIPSKI (on the beats) ready to drop this month! But i have also dropped a bunch of singles and have more ready to be released soon. The latest is off LIPSKI's upcoming collaborative Rap Album 'Bring The Heat' which is due  to drop in the coming months and features a host of talented rappers and from NZ, UK and The States".
Manu is  most reliably brilliant songwriters, keeping up a relentless creative pace of albums, mixtapes and collaborations and he's always had a healthy outlook about his poetic eminence — spending every day over the past 6 months working on this album. In addition to this there were off the cuff releases such as Beyond Our Vision (Acoustic) and the Drum and Bass remix that were created that have equally received a huge positive response from fans.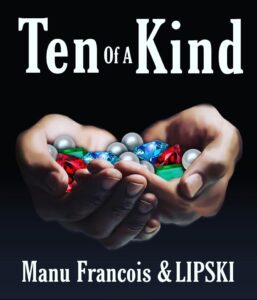 Ten of A  Kind is definitely a thematic switch, a classic and like a rare stone becomes a diamond under pressure. This album's timely release reflects a time the world was going through a seasoned global pressure.
The tracklist for Ten of A Kind  is as follows:
Invincible
Free Bird (ft. Maria Flores)
Ride Up (ft. Mongstar)
When You're Away Gracious Star (ft. LIPSKI)
Sensitive Little Souls (ft. Michele Ducray)
History
Proud (ft. LIPSKI Alisha Greatorex)
Jah Bless (ft. Fellon SBG) The Move
To keep up to date on the Album
 'Ten of A Kind'.
  Keep your eyes on the official website: 
www.manufrancois.com
.