Born Rachel Anne King on 10 March 1990, thraeyce has been calling herself variations of the name Katharine since she was a little girl. Inspired by strong women like Katharine Hepburn and Kate Mulgrew, she decided eventually to commit to the name change legally, and has never regretted it.
An avid sci-fi lover, King says the reason why she chose artist name "thraeyce" is because she's often been compared to actress Katee Sackhoff, who played Kara Thrace aka Starbuck in the 2004 reboot series Battlestar Galactica, and since she connects deeply with the character so much more having served in the military herself, she thought it fit perfectly.King has such an ardent love for so many different types of music, every genre and era imaginable that she couldn't resist diving in and creating eclectic compilations, bringing back some familiar sounds that pay homage to the legendary artists who've come before her.
thraeyce is an Army veteran, science fiction writer and indie filmmaker. She and her fiancée live together in Southern California with their 2 cats, Orange Julius and Phatty and listening to her music it is clear to see her ecclectic influences  play a major role in her music. On the song 'Renegade' track starts with an electro ispired vocal intro which  really spells out in all certain terms what to expect from the rest of the song.  The songwriting is on top form and you find yourself hooked from the first few seconds. By the time the chorus kicks in, you realise that you are listening to a masterpiece reminiscent  of the first time you  picked up an Oasis album. The song really captures the feeling of what it was like to undergo this part of history. Future generations to come will always look for material within research that documented what people went through and the song is a quick reminder that things were tough and people really went through nightmarish situations to come out on the other side. 'Fuck it up' reminds us that we can always go above and beyond the confines of our mind and there is much more that can be achieved if we think outside the box. Just remember once you give permission to your mind to take you far away, it is more than evident that there has to be a triggering of imagination to reach higher heights. If you think you, can achieve but if you imagine and hold on to your imagination with both faith, action and conviction then the world will be your oyster. "Let's go renegades, let's go renegades" is the call to action before the heavy bassline dubstep drop totally shows you why the song was named 'Fuck it up'.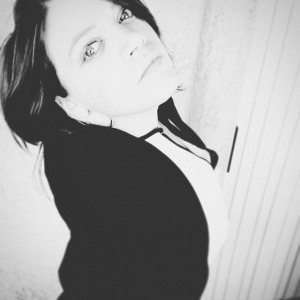 Her take on 'Nothing on Earth' flows seamlessly with a style which is more melodic on the single with chimes, acoustic guitar and bell like sounds introducing the song leading to a much more eclectic  sounding arrangement. The songwriting, production and vocals  again on Nothing on Earth is one that will seat perfectly on any radio dial.  thraeyce knows how  to tell a story with her singing and songwriting in a way which makes you feel the sense of urgency.  Talking about urgency and footsteps leads quite nicely to 'Run'  which even has something of an orchestrated quality, but it bubbles with a modern sheen thanks to its electronic music leanings.  thraeyce is an amazing performer, singer and songwriter with substance who's worth watching and hearing whenever you can.  By the time i get to 'Goldenchild' i am already a big fan and it sort of makes sense where thraeyce was rushing too, combining the traditional sounds of electro/dance/rock music to deliver a more dramatic and general ear-catching song with an amazing piano lead. The production style brings the song's synths and guitar into total sympathy with the music and vocals threading its way powerfully through the track.
The possible breadth of thraeyce's music and  appeal is immense. Listeners old and young alike will find some basis to relate to the songs or else understand the enormity of the experience. One does not write songs about buying groceries – these are works of art in miniature and aim to depict impactful events and feelings in our lives especially in the present era.
We managed to catch up with thraeyce  for an interview..
What inspired you to get into music?
I've always been a singer, dancer and all-around general artist. Music was always part of my childhood and youth. It's a core facet of my identity. Influences: Pink Floyd, Peggy Lee, and all the greatest jazz musicians who ever lived!
How would you describe your music?
I would describe my music as alt-pop because it's very eclectic.
What would you say is your recording and song writing style?
I'm not sure I know what my recording and song writing styles are right now. I have ADHD, OCD and PTSD, so there are several barriers that affect my creative process. Ultimately, I have a mic, a Mac and a fire beat and I improvise the majority of my vocals by simply listening to and vocalizing to the beat to "find" the melody or create one. That's if the beat itself isn't something I composed and mixed myself. I love to collaborate with other people, it brings me great joy to come alongside fellow artists and glow up together instead of competing.
Where would you like to see your music career in 5 years time?
Within 5 years' time, I'd love to be in a pro studio with a full-time music career going and millions of dedicated fans who are aligned w/my values and overall message.
Where can music fans listen your music?
My music can be found on over 150 music streaming platforms and stores, including Apple Music and Spotify! You can even tag my songs in your TikTok vids and Instagram Stories.
For more information on thraeyce  follow the links below; 
Click here to listen on Spotify
Click here for Official Website
Click here for YouTube
Click here for Instagram