Health and fitness have now become top priority amongst many individuals worldwide. Sugar which used to be consumed in almost every edible product has proven to have less more benefits to our health than was previously thought. Introducing, SweetLeaf Stevia, an award-winning sweetener with zero calories, zero carbs, a non-glycemic response, and no artificial ingredients. It is a non-GMO and kosher sugar alternative.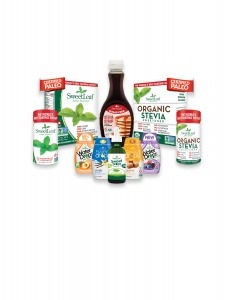 SweetLeaf Stevia has endless uses when you want to add flavor and sweetness to any food or beverage. The makers of the brand, Wisdom Natural Brands, have developed more consumer stevia products than any other company in the world. Today, SweetLeaf is No. 1 in market share in natural and health food stores,
and No. 2 in grocery in the U.S. SweetLeaf is sold in more than 30 countries. The brand has won 31
international awards and this year have announced bronze category sponsorship of the National Film Academy's, National Film & TV Awards taking place on the 5th of December at the Globe Theatre in Los Angeles. The Academy's awards show has been held successfully in the UK as the National Film Awards for the past 5 years and previous winners include; Samuel L Jackson and Dame Helen Mirren. The NFTA launches in the US to celebrate successful established and independent talent in TV and Film throughout the USA.
One of the great benefits of the brand is that it has no sugars, zero calories, no artificial ingredients, and great taste, SweetLeaf is available in convenient single-serving packets, liquids, powder, tabs, and concentrate, including the best-selling
The Products:
SweetLeaf Stevia and Organic Stevia Sweeteners, SweetLeaf® Sweet Drops™ Liquid Stevia, and SweetLeaf
Water Drops™.
 Sprinkle SweetLeaf® Organic Stevia Sweetener in foods, drinks and recipes.
 Squirt SweetLeaf® Water Drops™ to add flavor and sweetness to your foods and drinks.
 Squeeze SweetLeaf® Sweet Drops™ into your foods and drinks for extra flavor and sweetness.
For more information on the SweetLeaf family of products, Click here