Stephanie Hair Extensions is a well-known salon with a large and dedicated clientele from all over the world and was the first hair extension boutique in Yorkshire to operate. With over 12 years of expertise in the field, they are true perfectionists. Their team of eight devoted and highly qualified employees ensures that the enormous demand for their services is met, and focuses on providing their clients with the VIP hair treatment they deserve. 
Stephanie Hair Extensions was founded by Stephanie Cox, who started the business from scratch as a single parent 12 years ago. Through hard work and dedication, she has achieved global success.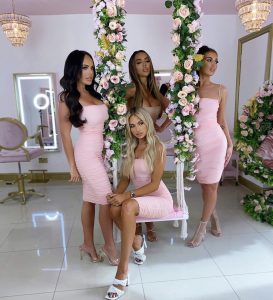 Stephanie has always been passionate about hair extensions and loves how hair can make you feel inside and out, she used to save all her wages to spend on her hair and would travel up to 6 hours for her own hair extensions fitting as there were no salons in her home area offering the luxury hair extensions that she desired. Noticing a niche in the market Stephanie decided to take the leap and began to build her own hair extensions business.
Starting out on her own working from the living room of her small rented home in Leeds. Offering hair extensions, fittings and maintenance to up to 6 different clients every day with no breaks in between. Stephanie would often find herself sitting up tipping & preparing the hair until the early hours of the morning ready for the next day ahead. She soon built a large client base & opened up her first hair extensions salon, the first hair extensions salon in Yorkshire.
As the business grew from strength to strength Stephanie knew she had to take the next leap for her business, although she was quite resistant at first. The growth was daunting – She needed to hire staff, and that's a big step, as then you have other people you're responsible for. This is a responsibility Stephanie takes very seriously, and the very low turnover of staff in her business is just one demonstration of her effective employment style.
Within the first year of opening the business, Stephanie had an army of 11 team members to keep up with the popular demand for their services.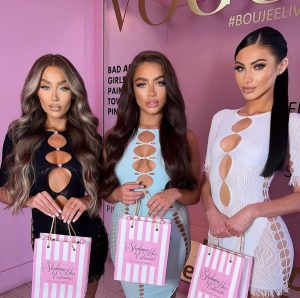 In 2015, the salon extended, opening up Stephanie's hair boutique, offering hairdressing services and providing 5 extra full-time jobs to newly qualified hairdressers.
In 2018, Stephanie became a hair extensions trainer and opened up Stephanie's hair extensions training academy. Stephanie's is the leading hair extensions academy in the UK, training students from all over the world online & salon based. The thriving academy offers specialist hair extension training to refreshers as well as beginners. Stephanie thrives on empowering her training academy students to always reach for their goals & not give in on their dreams.
Stephanie trains men and women of all ages with the most popular student being in their early 20's. Stephanie says a lot of these students are not really settled or yet sure about their career, boyfriends home life generally they just want it all, they want everything all at once. On Instagram it can look easy, it looks like people have these perfect lives, but they don't realise the hard work that goes into it all behind the camera. That's what Stephanie tries to teach the young students she works with today. Stephanie's trainee students receive an instant trade account which gains them huge trade discount savings on this hair.
2019 saw the launch of Trade & Retail hair wholesale and Stephanie began offering her highly in-demand Luxury Quality hair to the public and salons worldwide. The brand offers over 30 shades among 5 different hair extension methods with lengths up to 28", priding themselves on only sourcing high-quality luxury hair that can be reused for up to 3 years. 
At Stephanie hair extensions, they provide multiple hair extension services. From professional hair extension fittings/training / and luxury hair sales for retail & trade customers. The team understands the importance of hair in enhancing a woman's self-esteem, which is why they inspire to grow the confidence of their clients and empower them to look and feel good. 
The salon offers multiple hair extension methods all of which are incredibly safe & gentle to the natural hair. They have earned recognition in the beauty industry through their hard work and passion for these products & exclusive collaborations.
Stephanie works hard to always understand her customer's needs and is always researching the next up-and-coming products and services. Regular photo shoots and campaigns took in different locations all around the world for the brand.
Stephanie's hair extensions are worn by many celebrities & influencers today but it's not only the celebrity recognition that Stephanie prides herself on. Stephanie enjoys ensuring her prices are always affordable to the public so that many women are able to purchase the hair extensions, giving them the confidence that they deserve.
Stephanie says: " I have always thrived on doing well for myself & I always knew I wanted my own business. I am very focused and I believe concentrating on my own business & never comparing myself to others is the way to success.
When I first got into the industry hair extensions would take up to 6 hours for one sitting and they were also very expensive & mainly only worn by celebrities. I have worked hard to create more affordable, less time-consuming hair extension techniques, allowing normal working women with busy lives to easily access hair extensions."
These days hair extensions are not only used on celebrities, they are used on brides who want to feel an enhanced version of themselves just as much as they used for everyday life.
Stephanie's hair extensions can be used for adding thickness, adding length or adding a new colour. Stephanie prides herself on making hair extensions much more accessible to the general public. And feels privileged to have the power to help so many women from all around the world to gain self-confidence.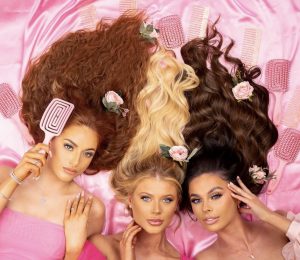 Stephanie's luxury hair is made from the highest quality 100% Russian Cuticle Correct Human Hair. They believe this hair to be every customer's most powerful accessory. With a swarm of social media fans and thousands of salons/ambassadors offering their products worldwide, they bring you the very best luxury quality hair extensions & products to date. Stephanie Hair Extensions may help you reach any of your goals, whether it's to entirely change your look, add length, or simply add volume.
Stephanie Hair Extensions recently joined the list of bronze sponsors for this year's National Reality TV Awards, and also acquired naming rights for the Best Talk Show category as part of the agreement.
Stephanie Cox, Director of Stephanie Hair Extensions proudly announces,"Stephanie Hair Extensions is super excited to be sponsoring this year's National Reality TV Awards. We feel privileged by the recognition and we are looking forward to a long term business relationship with the national film academy." 
The 11th annual National Reality TV Awards returns to London on the 28th of July, with nominations already announced and voting is now live on the official NRTA website at https://nationalrealitytvawards.org/voting/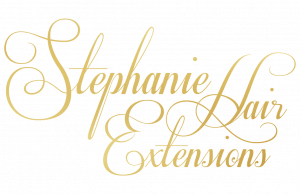 For more information on Stephanie Hair Extensions, check their Website|Instagram |Facebook|