The 'wrong Miss Universe' blunder at last year's tournament has been named the most memorable reality TV moment of all time.
The epic fail was witnessed by a TV audience of 7.6million and instantly went viral on social media around the world.
Miss Colombia Ariadna Gutierrez was crowned for two minutes before host Steve Harvey confirmed the error and called for the title to be handed over to real winner, Pia Alonzo Wurtzbach of the Philippines.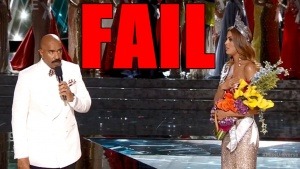 Presenter Gillian McKeith claimed second place in the memorable moments countdown for her Bushtucker 'faint' on I'm A Celebrity Get Me Out Of Here! 2010.
The famous nutritionist collapsed during a live broadcast in front of shocked hosts Ant and Dec and had to receive medical attention, leaving camp-mate Linford Christie to complete the trial in her place.
Lady Colin Campbell's outburst on I'm a Celeb 2015 completes the top three, after tempers flared between the socialite and multi-millionaire Duncan Bannatyne over a tin of tomato soup.
A spokesman from research experts OnePoll, which conducted the study, said: "Reality shows often make for a compelling watch, whether the contestants are members of the general public, celebrities or, in the case of our countdown winner, beauty queens.
"From the wonderful to the wince-inducing, shows like I'm A Celebrity and Big Brother provide a stage for unpredictable drama that keep viewers coming back year on year."
While recent reality TV moments dominate the top spots in the chart, unforgettable scenes from earlier series also appear on the list.
Nasty Nick's scheming and deception in the first Big Brother house left a lasting impression, as did Will Young's victory over Gareth Gates in the 2002 finale of Pop Idol.
Other celebrities to appear on the list of memorable reality TV moments include Perez Hilton and Katie Hopkins battling it out on Celebrity Big Brother 2015, Jordan and Peter Andre's budding romance on I'm a Celeb 2004 and George Galloway' nauseating cat antics with Rula Lenska on Celebrity Big Brother 2006.
This is all gearing up to this year's 6th annual National Reality Television Awards taking place in September.
TOP 50 MEMORABLE REALITY TV MOMENTS
1. Miss Universe – wrong winner announced – 2015
2. Gillian McKeith 'fainting' on I'm a Celebrity Get Me Out of Here! 2010
3. Lady Colin Campbell's rows with Tony Hadley and Duncan Bannatyne on I'm a Celebrity Get Me Out of Here! 2015
4. Nasty Nick getting caught out – Big Brother 1 2000
5. Ferne McCann and the snake trial – I'm a Celebrity Get Me Out of Here! 2015
6. Angie Bowie told of David Bowie's death and her housemates thinking fellow housemate David Gest had died – Celebrity Big Brother 2016
7. Olly Murs announcing Monica Michael was going home, then she wasn't, then she was – X Factor 2015
8. Nikki Grahame's tantrums – Big Brother 7 2006
9. Will Young beats favourite Gareth Gates – Pop Idol 2002
10. Darius singing Britney Spears' Baby One More Time – Popstars 2001
11. Jordan and Peter Andre getting together on I'm a Celebrity Get Me Out of Here! 2004
12. Dean Gaffney screaming in his first Bushtucker Trial – I'm a Celebrity Get Me Out of Here! 2006
13. Woman throws eggs at Simon Cowell during the Britain's Got Talent final – 2013
14. Jack Dee escaping from the house – Celebrity Big Brother 2001
15. George Galloway pretending to be a cat – Celebrity Big Brother 2006
16. Paul Burrell bug-eating Bushtucker Trial – I'm a Celebrity Get Me Out Of Here! 2004
17. Baked Alaska 'Bingate' – Great British Bake Off – 2014
18. Mason Noise 'having a strop in front of Simon Cowell – X Factor 2015
19. Jade Goody – "East Angular" – Big Brother 3
20. Chico – X Factor 2005
21. Fatima Whitbread getting a cockroach up her nose on I'm a Celebrity Get Me Out of Here! 2011
22. Ferne McCann eats a live spider – I'm a Celebrity Get Me Out of Here! 2015
23. Wagner – X Factor 2010
24. Lee McQueen being caught lying on his CV – The Apprentice 2008
25. Cheeky Girls – Popstars: The Rivals 2002
26. Perez Hilton vs Katie Hopkins on Celebrity Big Brother 2015
27. Rita Ora forgetting Monica Michael's name – X Factor 2015
28. Peter and Jane's row on Come Dine with Me 2016
29. Jedward singing Ghostbusters on X Factor 2009
30. Gemma Collins' meltdown in I'm a Celebrity Get Me Out of Here! 2014
31. Kinga and the wine bottle – Big Brother 6 2005
32. Alex singing Abba behind the door to the camera – Big Brother 3 2002
33. Scott Saunders quits the Apprentice in boardroom 2015
34. Farrah Abraham and Aisleyne Horgan-Wallace fighting on Celebrity Big Brother's Bit on the Side – 2015
35. Katie Price dumping Alex Reid on I'm A Celebrity Get Me Out of Here Now! – 2009
36. Jennie Bond singing while taking part in the 'coffin' Bush Tucker Trial – I'm a Celebrity Get Me Out of Here! 2004
37. David Gest acting calm during his Bushtucker Trial – I'm a Celebrity Get Me Out of Here! 2006
38. Megan McKenna's meltdown – Celebrity Big Brother 2016
39. Millie slaps Spencer – Made in Chelsea 2012
40. Celebrity Big Brother love triangle between Lee Ryan, Casey Batchelor and Jasmine Waltz – 2014
41. Lee Mcqueen's dinosaur impression on The Apprentice 2008
42. Rebecca Loos 'relieving' a pig – The Farm 2004
43. Jackie Stallone moving into the Celebrity Big Brother house 2005
44. Paul and Helen get together – Big Brother 2 2001
45. Fight Night between Emma and Victor – Big Brother 5 2004
46. Pete Burns' gorilla coat getting 'arrested' – Celebrity Big Brother 2006
47. Anthony and Makosi in the Jacuzzi – Big Brother 6 2005
48. Michelle and Stuart sneaking underneath the table – Big Brother 5 2004
49. Sam and Joey break up in Marbella – TOWIE 2013
50. Sandy peeing in the bin before walking out – Big Brother 3 2002
The National Reality TV Awards takes place in September 2016. For more information . Go to: www.nationalrealitytvawards.org