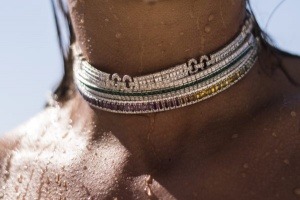 London based jeweler, Zena Haddad, is a creator of exceptionally beautiful hand crafted fine jewellery. The National Film and Television Awards are excited to announce that Zena will be sponsoring the category of 'Best Breakthrough Performance' at this years NFTA's.
Zena has fast created a niche for fun but fine jewellery of the highest quality. Her pieces demonstrate a play between restrained elegance and rock and roll.
Taking her cues from the world of art and sculpture, themes of Peace & Protection feature throughout with spiritual leitmotifs such as an Antique Carved Coral Buddha, Flawless RockCrystal rings, extra large horse shoes or pyramid shaped rings, all accented with sapphires, emeralds and diamonds giving each design a serious dose of cool-girl edge.
Her obsession with numerology has also influenced her designs, with numbers featuring throughout. Either through the number of angles to a shank of a ring – she offers a 6, 7 or 8 sided shank – or the number of lashes on her EyeShallProtectYou Earrings (5 or 11). Her signature 18k Gold Chains bear the sacred geometric hexagon. Her stacker rings also pay tribute to the Number 6 through their hexagonal shank.
'I designs for myself and for the person who has a strong sense of self and identity. This brand is for the wearer who is wanting to express his or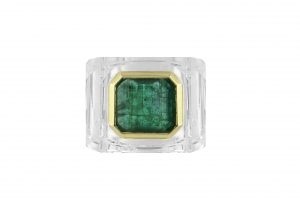 her individuality, strength and independence. It is for the fashion-conscious who appreciate old school quality. Many of the pieces are limited one-or-two-of-a-kind designs'
Her designs are playful yet fearless and confident – teaming shoulder dusters with strong geometric studs. They mix the rare with the funky offering gem set grosgrain 'extension cables' to transform tennis bracelets into chokers. This is 21st century hi-luxe rock and roll.
Zena Haddad's creations are Handcrafted by best-in-class artisans using only high quality materials. Her first design, the OnTheRocks RockCrystal & Emerald Ring was recognised for its exquisite craftsmanship at the 2018 Goldsmiths' Craft and Design Council Awards. The GCDCA, known as the 'Oscars for the Jewellery industry', awarded the ring Silver in the Modellers' category.
Zena says she took the 'scenic route' to jewellery making, having spent the last 20 years of her career as a litigation lawyer. She is not new to jewellery however as she has grown up surrounded by it and by the love of beauty, both her parents serious jewellery and antique lovers and collectors.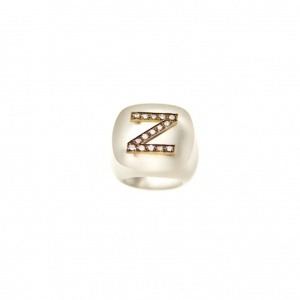 This Jewellery Brand is borne from the designer's love of beautiful material, design and top craftsmanship. Zena Haddad Jewellery offers the jewellery wearer true masterpieces in design and quality. Her designs stand out from the crowd and will stand the test of time, often being described as 'Future Heirlooms'.
Find out more on Zena's top quality makes here:
I: @the_house_of_z
F: Zena Haddad Jewellery
V: Zena Haddad Jewellery
W: www.zenahaddad.com