Discover some of the best party hotspots on the planet this summer, make new friends and dance the night away under the stars in the most exciting international destinations imaginable.
From a vibrant festival scene in The Netherlands, to the spiritual home of dance music in Ibiza, plus party and festival hotspots all over Eastern Europe, Spain, Morocco and beyond there's plenty to keep you busy this summer. Why not combine your memorable party moments with a city break or beach holiday? Mix idyllic coastlines, picturesque views, unique architecture, culture and gastronomic delights for the perfect festival break. Here's 10 of the best places to party in 2017!
IBIZA
It goes without saying that Ibiza is a paradise for party-goers, this sunny oasis has long been the spiritual home of dance music and club culture. Enjoy the warm sunshine and sun-drenched days pool side and party into the night at some of the world's best clubs and parties. For those looking to balance out the party life with some much-deserved r&r, there's a wealth of yoga retreats and tranquil sandy beaches on the island, making for the most picture-perfect party location.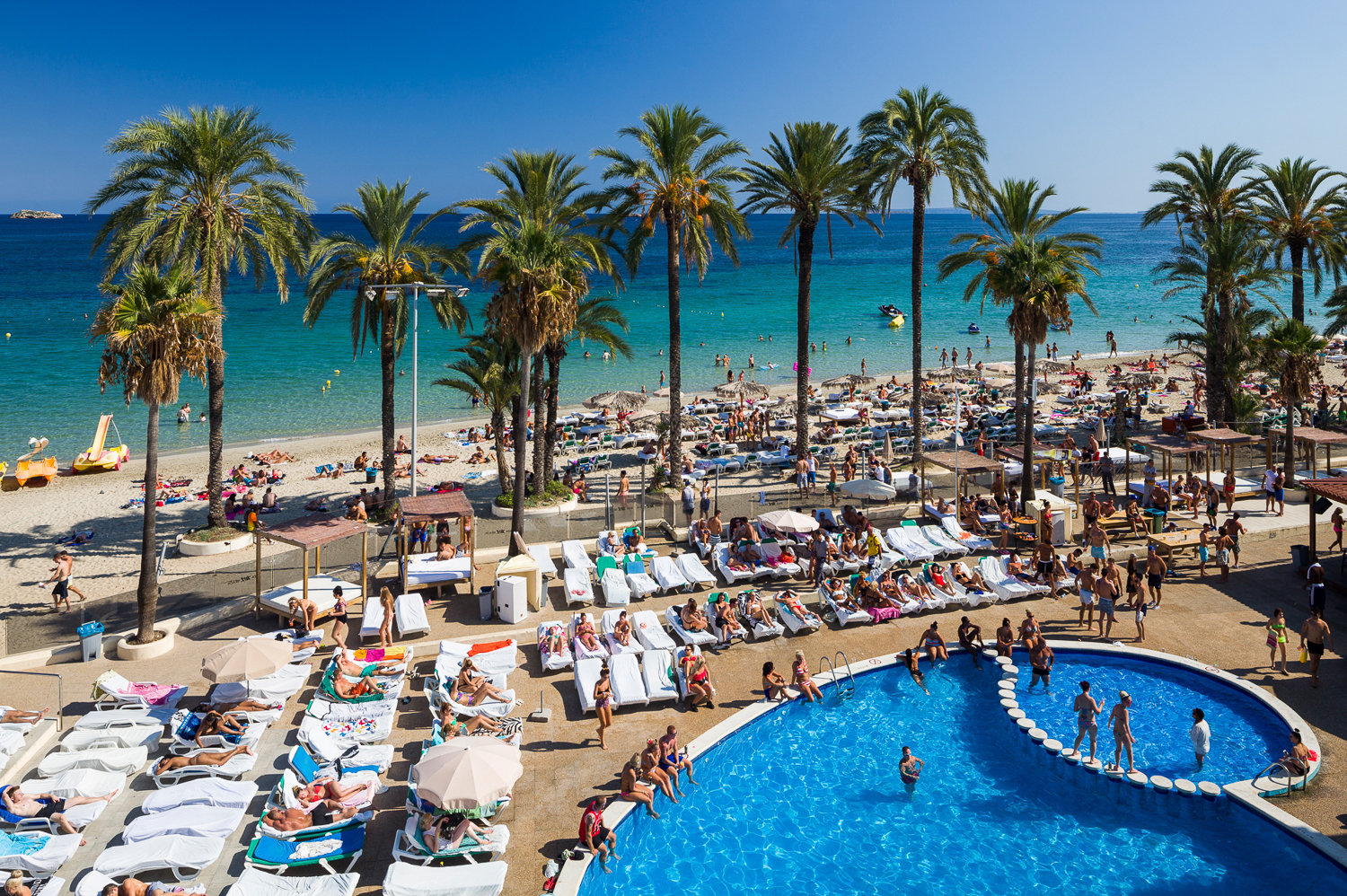 This summer Ibiza enters an exciting new chapter with the much-anticipated launch of Hï Ibiza, the brand new superclub by Ushuaïa Entertainment. The club formerly known as Space will be elevated to new heights, with a fresh new look and the most advanced sound and technologies on the island. From May through September Hï Ibiza will play host to the finest selectors from the global electronic music scene, including Apollonia, Black Coffee, Joris Voorn, Kölsch, Luciano and Nic Fanciulli. Don't miss the club's Opening Party on Sunday 28th May, which promises to be a historic moment in club culture and one of this year's essential party destinations.
Be like a local…
Drink: Hierbas
Eat: Sobrasada
Say Cheers: Salud!
Hï Ibiza parties all through the summer from May – September. To book tickets visit hiibiza.com
THE NETHERLANDS
There must be something in the water in Holland, with the sheer number of festivals that take place in the country every year! Whether you're into rock, pop, indie or electronic music there's literally hundreds of events to choose from. With a flourishing Dutch music scene too, it's the perfect time to look out for emerging acts like Klangstof and Amber Arcades or Dutch DJs Tom Trago, Mirella Kroes, Hunee, Steve Rachmad and more. Why not combine a festival with a city break to Amsterdam, where you can take in the laid back atmosphere, wander the cobbled streets and canals and check out one of the most cutting-edge nightlife scenes in Europe?
Join one of the biggest parties of the year at the 25th edition of Lowlands festival! The Dutch answer to Reading & Leeds, has an extensive multi-genre line-up featuring over 250 acts including Mumford & Sons, The xx, Editors, alt-J, Bastille, Cypress Hill, Michael Kiwanuka, Ben Klock, Dixon, Glass Animals, Talaboman and more. When it comes to electronic music, the world's longest running dance music festival Mysteryland has it all. Over 346 acts, criss-crossing house, techno, disco, African beats, vinyl-only, hardstyle, hip hop and feel-good bands, plus an extensive arts and culture line-up. For the underground heads there's also Welcome to the Future festival, a celebration of underground electronic music culture with a cutting-edge house and techno lineup, featuring Audion, Claptone, Jackmaster, Lil Louis, Loco Dice, Ross From Friends, Sandrien, Tom Trago and many more.
Be like a local…
Drink: Kopstoot
Eat: Stroopwafel
Say Cheers: Proost!
Lowlands takes place from 18th – 20th August. To book tickets visit lowlands.nl
Mysteryland takes place from 26 – 27 August 2017. To book tickets visit mysteryland.nl
Welcome to the Future takes place on 22 July. To book tickets visit welcometothefuture.nl
MOROCCO
Few countries hold as much dreamy fascination for travellers as Morocco. From the Sahara desert, Berber towns and sandy coastlines there is so much to be explored, especially in the 'Red City' of Marrakech. The winding alleyways of the Medina give way to the bustling souks, filled with brightly coloured silks, spice baskets and the most delicious local cuisine. Relax and unwind at the hammam and indulge yourself with massage or take in the breathtaking views of the Atlas Mountains, the Jardin Marjorelle and stunning architecture that the country has to offer. The city also has a growing music and festival scene, thanks in part to Oasis festival, which kick-started the festival scene there back in 2015.
Nestled on the outskirts of the bustling city of Marrakech in the luxurious surroundings of the Source music resort, Oasis brings a slice of festival paradise to Morocco, shining the light on North Africa as the latest must-visit festival destination. In addition to the cutting-edge music programme featuring Richie Hawtin, Nicolas Jaar, Marcel Dettmann ,Charlotte De Witte, Chloe, and many more, there is ample opportunity to nourish the mind, body and soul with daily yoga, massage and reflexology. Guests can also experience Moroccan culture on-site with authentic local street food, a wide selection of locally produced and organic products, market vendors, henna artists and more. There's no doubt Oasis is one of this year's most unique party experiences!
Be like a local…
Drink: Mint Tea
Eat: Pastilla
Say Cheers: Fe sahetek
Oasis takes place from 15-17 September 2017. To book tickets visit theoasisfest.com
SPAIN
Spain is a mix of old and new, modern and traditional. Think cathedrals, world-class art, stunning architecture, beautiful sandy beaches, a buzzing nightlife and a thriving festival scene. It's no wonder Spain has long been the go-to destination for British travellers and the Basque country's Bilbao has everything to offer, and more! This culture-rich city is full of character and there's plenty to keep you busy. Visitors can head to one of the many museums and art galleries, including the world-famous Guggenheim, take a street art tour, check out the world-famous Basque gastronomic scene or sample some of the region's famous Pintxos and Kalimotxos (Cola and Red Wine!) along the way.
The Spanish sure know how to party too! When it comes to Bilbao, it's fiesta time when Bilbao BBK Live festival comes to town, taking over the stunning Kobetamendi Hill with breathtaking views across the city. This year's line-up features acts including Depeche Mode, The Killers, Justice, Phoenix, Two Door Cinema Club, Fleet Foxes, The 1975, Sundara Karma and a whole host of Spanish musical talent. Plus, Basoa, the festivals carefully curated dance music space will also play host to uninterrupted party sessions from many of the most-respected names in electronic music including Dixon, The Black Madonna, Andrew Weatherall and Motor City Drum Ensemble.
Be like a local…
Drink: Kalimotxos (Cola and Red Wine!)
Eat: Pintxos
Say Cheers: Salud!
Bilbao BBK Live takes place from 6-8 July 2017. To book tickets visit bilbaobbklive.com
SERBIA
This friendly, warm and welcoming country is a hell of a lot of fun. Capital city Belgrade has become one of the most happening cities in Europe rivalling Berlin as the go-to party destination but the best place to get your music fix is Novi Sad's Exit Festival which sees music fans from all over the world descend on this cultural hotspot. Visitors can take in the beautiful, scenic views across the River Danube, wander through pretty parks, outdoor cafes and its bustling bars. Nicknamed the 'Athens of Serbia', this vibrant, creative city oozes history and it's laid-back liberal vibe makes for the perfect festival spot.
Just a short ride away from Belgrade, the magical Petrovaradin Fortress set high on the banks of the river Danube in Novi Sad provides the perfect setting for EXIT Festival. Started as a student protest in 2000 fighting for political change and freedom, EXIT continues to spread positive vibes, promoting change and positive education, supporting many community and humanitarian missions, while throwing a damn good party. The award winning festival has something for music lovers of all genres with a diverse mix of artists performing on numerous stages connected by cobbled streets, ramparts and tunnels. Also renowned for it's amazing atmosphere and energy the Dance Arena champions the who's who in the electronic music world set in the awe-inspiring moat of the fortress! With acts including Liam Gallagher, Solumum & Dixon B2B, Paul Kalkbrenner, Hardwell, Rag'n'Bone Man, Jake Bugg, Hot Since 82 and more this is set to be a huge year.. EXIT. Where hedonism meets activism.
Be like a local…
Drink: Rakija
Eat: Sarma
Say Cheers: živeli
Exit Festival takes place from 6-9 July 2017. 4-day tickets from £79 available at exitfest.org
LATVIA
Best described as a quaint unspoilt parkland with its cosmopolitan city of Riga, Latvia has retained its charm whilst also offering the best in nightlife. Riga is the perfect pre-festival pit stop, take in the stunning art-nouveau architecture, wander the winding cobbled streets of the old town and dip into the city's burgeoning nightlife scene before you escape to one of the country's biggest summer party destinations – Positivus Festival.
Taking place in the picturesque coastal town of Salacgriva, Positivus is the largest music and arts festival in the Baltic States, transporting chart-topping headliners, underground emerging talent and exciting art and dance stages to their unspoiled atmospheric coastal setting amid stunning woodland. Festival goers can dip their toes in the baltic sea or take in the atmosphere in a hammock beneath the trees while enjoying a rich diversity of international chart toppers and underground emerging talent in this idyllic holiday location. Positivus also offers art and dance stages giving festival goers a variety of activities and stalls selling locally made designer clothing and accessories, giving festival goers plenty to see and do during the 3 day event.
Be like a local…
Drink: Riga Black Balsam
Eat: karbonāde
Say Cheers: Priekā
Positivus takes place from 14th to 16th July. 3 day festival passes from £67 positivusfestival.com
POLAND
Poland offers the perfect getaway for party people wanting to get their culture fix. Steeped in history, travellers can explore museums, monuments, castles and the country's well known club culture. Made famous in the 90's, the underground techno scene was compared to that of Berlins with a pioneering outlook on electronic music. This has been culminated today through the curation of some of the most interesting and unique festivals on the scene including Katowice's OFF Festival..
OFF is a festival for the discerning music fan and the place to discover the best alternative acts from around the world. A truly unique boutique music festival, OFF Festival takes place in 'Three Lake Valley', Katowice – a beautiful green oasis in the heart of industrial Silesia. OFF Festival's reputation is growing year on year driven by the festivals forward–thinking, eclectic music policy and it's bold and eclectic lineups. From the greatest alternative music stars from around the world to the increasingly strong Polish scene, OFF festival has inspiring music in abundance and the organisers and crowd have one serious finger on the pulse when it comes to music, this year will see Swans, Daniel Johnston, Shellac, Jessy Lanza and many more take to the stage.
Be like a local…
Drink: Balsam Pomorski
Eat: Bigos
Say Cheers: Na zdrowie
OFF Festival takes place from 4-6 August 2017. 3-day tickets from £52 available at off-festival.pl
HUNGARY
Famed for its architecture and romantic scenery, Hungary has become to be known as 'The Paris of the East'. Wander through the sunny streets making pit stops at local eateries to sample the delicious local cuisine and visit the Palatinus Baths to relax and unwind the mind. At night the vibrant city comes alive, explore the special 'ruin pubs' and if you want the best tips on where to go ask the friendly locals who are always happy to help! After a night in Budapest you're sure to be in the party spirit ready for a week long adventure at Sziget festival which offers the ultimate party holiday experience.
Proud winner of the 'Best Major European Festival' award in 2015 and 2011, and 'Best Festival Line Up' in 2016, Sziget Festival is one of the biggest multicultural events of Europe. Taking place on the picturesque Óbuda Island in Budapest, Sziget welcomes over 490,000 visitors from over 100 countries to express themselves at the week long party on their self-proclaimed Island of Freedom. Sziget is not just about music, with more than 50 program venues offering festival goers the chance to experience many different things including; circus, theatre and dance, art and installations, yoga and sports and a huge variety of food. There is also has a beach area where fans can truly enjoy the summer and the Danube. Acts for 2017 include PJ Harvey, The Kills, Alt-J, Major Lazer and many more!
Be like a local…
Drink: Pálinka
Eat: Goulash
Say Cheers: Fenékig
Sziget takes place from 9-16 August 2017. 7-day tickets from £175 available at szigetfestival.com
MONTENEGRO
Recently listed by Skyscanner as the number 1 cheapest holiday destination for 2017 this country is well worth checking out. Montenegro has towering mountains perfect for hiking and mountain biking as well as some of the world's best unspoiled beaches on the Adriatic Sea. And if that wasn't enough Montenegro featured in the James Bond Film Casino Royale and if it's good enough for Bond, it's good enough for us!
Award winning Sea Dance festival gathers each year fans from over 50 countries from all over the world, and impressive line up of more than 100 hottest international music stars. This year, fourth edition of the festival, will be held in Budva from 13th to 15th July, in Budva, Montenegro with acts including John Newman and Sean Paul. Voted best European medium-sized festival, Sea Dance has proven much within just three short years. Stunning location, world renowned artists and outstanding productions make this festival a must see. Save the date and experience Sea Dance festival on Europe's hottest summer destination, city of Budva, Montenegro.
Be like a local…
Drink: Prvijenac
Eat: Punjene paprike
Say Cheers: Zivjeli
Sea Dance Festival takes place from 13-15 July 2017. To book tickets visit seadancefestival.me
AUSTRIA
The famously beautiful Austria offers the most stunning alpine scenery, incredible architecture and also plenty of museums, bars, cafes and a buzzing club scene. Fading between the cultural capital of Vienna and the natural beauty of the Austrian Alps there's so much to be explored. Home to the annual Snowbombing festival, the Alpine village of Mayrhofen has even earned the title of 'Party Capital of the Alps'!
When it comes to snow and music festivals, Snowbombing is the reigning king of the scene. A festival up a mountain 8,497ft above ordinary, in one of the finest ski resorts in Europe, showcasing world class acts in the most unique venues imaginable – think igloo raves, enchanted forest parties and mountain-top stages!
The world's no. 1 festival on snow takes place from 3-8 April, with acts including Run The Jewels, Chase & Status, Giggs, Dixon, Blossoms, Slaves, Novelist, Grandmaster Flash, KiNK, Groove Armada, Eats Everything, Stefflon Don and many, many more. All this plus, luxurious spas, rooftop hot tubs, authentic alpine cuisine, 650km of unadulterated piste and not a tent in sight, make Snowbombing a piste and party lover's paradise.
Be Like a Local…
Drink: Schnaps
Eat: Wiener Schnitzel
Say Cheers: Prost!
Snowbombing takes place from 2-8 April 2017. To book tickets visit Snowbombing.com
Have we missed a major festival from around the world? E-mail us : editorial@thenationalpost.co.uk