The 15 million wasp eggs scattered across neighborhoods in Sacramento and San Luis Obispo counties represent a rare return to historical methods of pest control.
Deployed last week, the eggs will soon give rise to tiny wasps (Trichogramma platneri), each no larger than a grain of rice. The stingerless species is naturally inclined to lay its eggs inside light brown apple moths' own eggs. Scientists hope the natural weaponry — also soon to be deployed in San Mateo and San Joaquin counties — will purge the pest's progeny and help stave off the need to launch a chemical attack to protect California's crops.
Despite the implementation of this alternative strategy for fighting agricultural pests, and a new broad pest management plan in the works for California, the aerial spraying of pesticides continues to dominate the field. An estimated one billion pounds of pesticides are applied to U.S. farms, forests, lawns and golf courses each year, despite the promise of alternative strategies, such as introducing predatory species or enhancing biodiversity in and around crops. The trend also continues in the face of mounting concerns over the potential risks posed by these chemicals — with diabetes and poor prenatal brain development recently added to the list.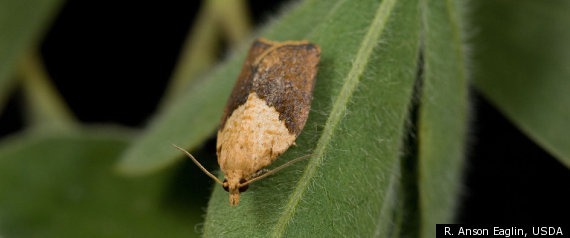 Monsanto, a U.S.-based agricultural organization, remains under the gun after a report suggested that industry regulators had known for decades that its Roundup weedkiller could cause birth defects.
"If we were to show that we could cut pesticide use to zero, there are a lot of [big business] people that would not be happy," said Miguel Altieri, an expert in agriculture and ecology at the University of California, Berkeley.
A quick Google Earth flyover of California's Central Valley — around Lodi, Modesto and south to Fresno — provides a good view of what high input of pesticides can look like. The major agricultural hub typically bears a low diversity of crops, large fields and few natural areas, said Claudio Gratton, an entomologist at the University of Wisconsin, Madison.
But it hasn't always been that way.