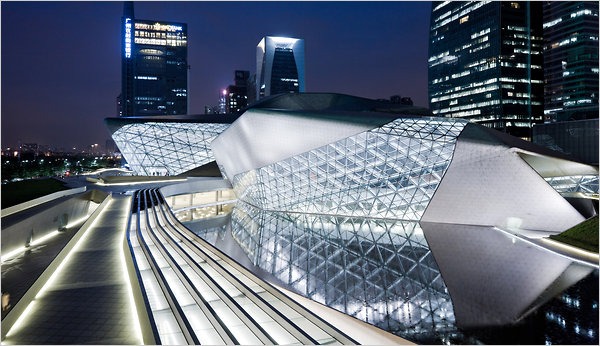 GUANGZHOU, China — It says something about the state of architecture today that the most alluring opera house built anywhere in the world in decades is in a generic new business district at the outer edge of this city, has no resident company and a second-rate program.
And because this is China, a country that is still undergoing cultural growing pains and whose architectural monuments are mostly being built by unskilled migrant labor, the opera's construction was racked with problems and the quality of some of it is abysmal.
Still, if you're an architecture lover willing to find your way to the building, you probably won't care much. Designed by Zaha Hadid, the new Guangzhou Opera House is gorgeous to look at. It is also a magnificent example of how a single building can redeem a moribund urban environment. Its fluid forms — which have been compared to a cluster of rocks in a riverbed, their surfaces eroded by the water's currents — give sudden focus to the energy around it so that you see the whole area with fresh eyes.