K18 is the revolutionary hair repair treatment that goes beyond traditional bond builders and renews hair up to 82% virgin strength + elasticity for strength, softness, smoothness, and bounce – in just 4 minutes!
Launched in the UK in 2021, the K18Peptide™ leave-in molecular hair repair mask contains the patented molecular breakthrough clinically proven to reverse even the most severe hair damage—in just 4 minutes.  Creating an entirely new category of biomimetic haircare, K18 has taken the hair world by storm, now retailing in over 150 countries and attracting viral social media attention with over 10bn views of its' #k18hairflip campaign on TikTok.
K18 gives you the freedom to liberate your routine and self-expression and hair professionals have instantly seen the benefits – the more damaged the hair (from chemical services, heat styling and the environment) the more dramatic the results! And the freedom to instantly rehab their hair or change up their hair colours without risk of damage is the reason so many celebs and mega influencers are in love with K18!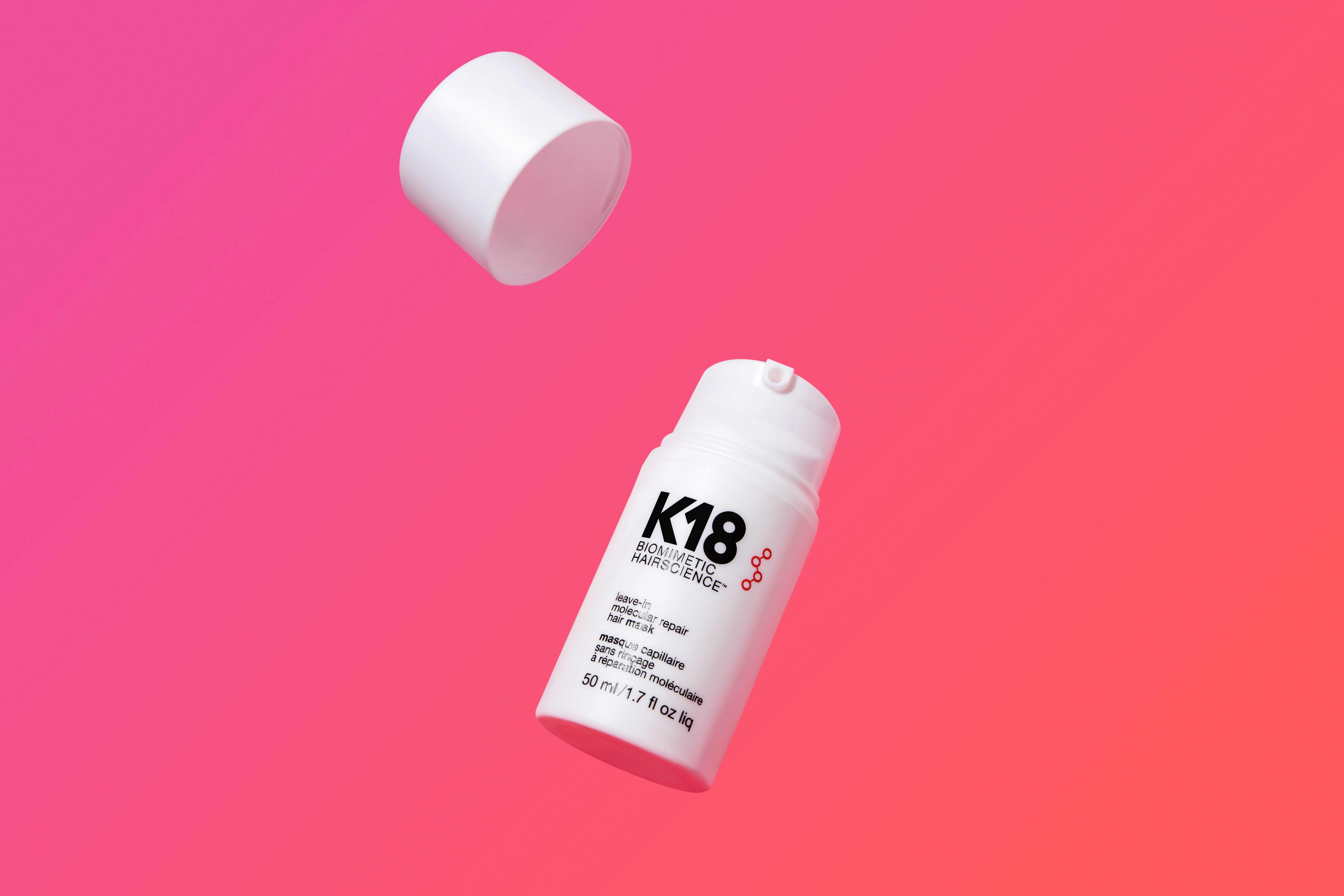 A revolutionary scientific approach to hair care!
Traveling into the inner-most layers of hair to reach the core polypeptide chains (keratin chains), the revolutionary K18Peptide™ is just the right size and makeup to fit in and reconnect broken chains.
Founded by tech industry veteran Suveen Sahib and beauty veteran Britta Cox, K18 offers a uniquely scientific approach to haircare. The K18Peptide™ was developed by applying computational models with sequence analogy used in biotech to the molecular structure of human hair. The peptide, a unique amino acid sequence, works on a molecular level to restore hair back to like-new strength and elasticity. By reaching the innermost layers of hair and reconnecting broken keratin chains—a result of bleaching, chemical services, and heat damage—the peptide provides lasting renewal instead of temporarily patching damage like more traditional cosmetic chemistry products on the market.
"Nature is the best designer, and we've found by understanding the biology of hair you can achieve what you've always wanted, true hair health and full expression with less. Less product, less frustration, less damage," says Founder Suveen Sahib. "No one should have to choose between healthy hair and hair that looks the way they want it to – and now the diverse, curious community of beauty lovers never have to make that compromise. We are ready to share this innovation with even more people and are so excited that more and more people see the value of molecular repair that actually works across all hair types."
On a crusade to liberate haircare
K18 has recently announced a sponsorship deal with the prestigious 11th annual National Reality TV Awards which and the brand is excited to reach a new audience through this partnership with the NRTAs, educating hairstylists and consumers about why the science behind hair not only has a place in their self-care routine but is ushering in the next era of hair health.
Peter Tobolski, UK Master Distributor for K18 Hair UK, said "K18 Hair UK is excited to partner with this year's National Reality TV Awards. We are huge fans of the Reality TV industry and of course, we pay very close attention to the hairstyles of Reality TV stars.  We are thrilled to be sponsoring the "Best Reality Non-Competition Show 2022" category and look forward to seeing everyone in July!"
The 11th annual National Reality TV Awards returns to London on the 28th of July with nominations scheduled to be announced on the 1st of June 2022.
For more information on K18, go to: http://www.k18hair.co.uk/ and check their Social Media Handles:
Instagram – @K18hair_uk
Facebook – @K18hairuk