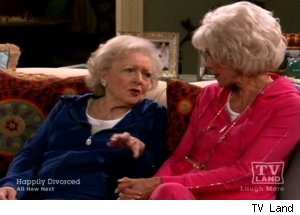 For probably the first time in her entire life, Victoria Chase wanted to be older on 'Hot in Cleveland' (Wed., 10PM ET on TV Land). She was trying for the lead part in a local production of 'Driving Miss Daisy,' but the director said she was too young for the part.
Not to be outdone, Victoria decided to prove it to him by going deep into character as an old person, and she tapped Elka to help her get the nuances right.
"Good speed," Elka said as Victoria slowly shuffled into the room in her track suit, thick glasses and white wig. "Now feel the lack of burn."
All the prep work helped, as Victoria got the part and apparently discovered the director was what Elka called a "wrinkle chaser." Her plan was to reveal herself on opening night, but she couldn't hold it in when the director started bad-mouthing Victoria as a soap actress, a.k.a., a "one-trick pony."
She threw him out, showing him who she was. Meanwhile, he lost both his star and a potential girlfriend.
Across the street, Rick was proving to be too much of a good thing. Now all three ladies have experienced his amazing neck massages, and Joy's taken it all the way and seen he's quite the ladies' man in bed as well. Somehow, we don't think this particlar storyline is played out yet