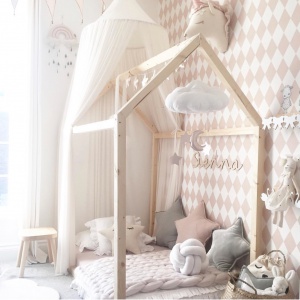 The National Post had an exclusive interview with founder and CEO of House of Merino, Kelly Markey. House of Merino is a luxury home decor company, providing a range of homemade knitwear products.
How long have you been in the Luxury Home Décor business for?
Before launching House of Merino, I worked in corporate finance so home decor is completely new to me. I have never worked in this industry before so I would say the last 12 months.
What made you want to launch your own company?
I fell pregnant with my daughter and nowadays childcare is just so expensive. I have two older children as well and it made sense to stay at home to spend quality time with my daughter and have time away from work as I began working at 16. However, being at home was quite isolating as none of my friends have younger children, which meant I would stay in and wouldn't get out to see anyone even though I wanted to and to be honest, it became very lonely. One day, I was looking at photos of children's bedrooms as I wanted to redecorate and then I saw a blanket in a Costa Coffee and thought "I can make one of those". I ordered some wool and needles to make a blanket. Once it was completed, I thought "I really like that" so I set up a page on Instagram and the business progressed from there.
That's amazing. Now, did you learn how to knit or did you already have the skills necessary?
I knew the basics of knitting, how to cast on, cast off, how to make blankets; I then used the principle of knitting and adapted that to merino wool. There are so many tutorials available which is always a massive help. However, I like to figure out any issues I have myself, so I can put my own twist on everything.
Describe the products that House of Merino has to offer?         
Our products include; Luxury home decor, handmade using 100% merino wool. It's cruelty free and has great health benefits. It's a sustainable product and the only wool in the world that keeps you comfortable in the summer but also warm in the winter. You could sit in the 30 degree heat with this blanket wrapped around you and still be comfortable (not hot like you would with acrylic wool). In terms of health benefits, it is proven that if you sleep with a wool-based product, you actually sleep a lot better. The amount of people that have told me their children have slept on top of the blankets, and have just slept the whole night through is remarkable. So the health benefits, whilst it looks great it's also really good for you.
The market you are functioning is already highly competitive. What would you say makes House of Merino different from other companies?
I've gone at it from a different angle as I am sales based and I need to earn a living but equally I like to be the face behind the brand so people can actually see the person who has created the products. I like to be out there with colours and create different blends, for example I based a blend on chocolate chip ice cream and strawberry ice cream and that is how we came up with a one of our blends. I'm always thinking outside the box and how to make what I do relevant with current trends in the media, national press and home trends. Instead of trying to follow suit I try to make it so there's a different edge to it.
What would you say is your best selling item and why do you think this is?
Our best selling item would be the baby blanket and the bed runners. Baby blankets, you put a newborn baby on it and you get the cutest photo. For photoshoots and maternity photos they are perfect backdrops. They're not too big, not too small, they're the perfect size. They are very versatile in terms of the ways you could use it for example on the arm of a chair. Bed runners as well, you can lay them across the bottom of your bed, sofas or in baskets. Single blankets are great as well because if you are like me, you can completely wrap yourself up and they are really nice and cosy.
They sound great, what would you say is your favourite product?
My favourite product would definitely be the throws and the baby bear beanie, I think it is the most adorable thing! In terms of home decor, my favourite are the throws and out of the clothing we have begun to make my favourite would be the beanies.
House of Merino has built a very strong Instagram following and has been endorsed by many celebrities. What tips would you give to others starting a business this way?
I started with a ball of wool and a Nikon camera. I took photos in a way I would like to see them on a website and from there I made sure that I used hash tags that were relevant on social media. Also, making sure I got my brand out there, constantly on stories and using live videos showing people why they should buy the products and building that trust, making people want to invest in my brand. When Ferne McCann posted on her Instagram with my blanket, people started talking and I got a wave of followers and from then it has just been building.
What would you say has been your proudest moment so far?
I think it would be when House of Merino was featured in OK magazine. I love to read this magazine and have done since I was young. You always look at the credits, where people buy products from so for me, to have something in such a well known magazine it was like a 'wow never would I have imagined featuring in that'.
You have received great reviews online. What would you say is the secret to keeping customers happy?
It is all customer service. I get very frustrated when you see a business that hides behind emails and doesn't have a phone number that you can contact if you have a problem. It can be almost impossible to get it sorted. I like to be available whether its for two hours going through photos helping to pick colours for a room or whether 3 weeks later the customer has a change of mind. They are handmade items but equally I want my customer to be happy with the product whether it's a week, 6 months or a year down the line.
Where would you like to see House of Merino in 5 years time?
I would love to see House of Merino in luxury department stores such as Selfridges, Harrods, Harvey Nichols, in the home ware departments. In addition I would like to have a chain of shops and workshops.
I make everything myself and have a couple of friends that help out. But for me, another benefit is that arts and crafts are very popular for those that suffer with anxiety. I'd love to take that angle and have workshops for like-minded people to get out there and meet others.
House of Merino sponsors the Best Social Experiment Show 2018 category at this years 8th annual National Reality TV Awards. To vote for their category please go to: http://nationalrealitytvawards.org/voting/
To find out more about House of Merino, visit the website:  www.houseofmerino.com and check out their social media pages below: