In November 2009, an anonymous solitary entrepreneur hacked together a service that randomly paired up strangers in video chats. The phenomenon, known as Chatroulette, was bizarre, often sexually explicit, and always fascinating. Within a matter of months, Chatroulette had tens of thousands of daily users and was a media sensation in the U.S. What no one knew was that its founder was a 17-year-old video game aficionado named Andrey Ternovskiy, who lived with his parents in Moscow.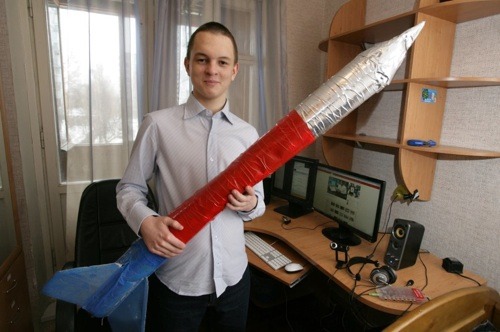 A week after we launched, I started getting e-mails from media and investors, but I felt like I couldn't reply to them. How could I say that Chatroulette was not a company, just somebody in Russia? I thought that if professional businessmen saw what I was, they would just crush me. So I ignored their e-mails. It was like a mouse being chased by a cat. I felt like the mouse.
I didn't have anybody to talk to. I still don't. Maybe it's because I don't trust people enough. But I don't think you can ask a businessman his opinion and expect unbiased advice. Everybody wants something from you. That's the way it works.
In February, I decided to stop being afraid and tell people who I was. It was fun: I just drank a lot of coffee and started replying to e-mails. I gave an interview to The New York Times, and I wrote back to Fred Wilson of Union Square Ventures, who invited me to come to New York. He talked to somebody in the United States embassy, so I didn't have to wait in line for a visa. It was awesome. I felt like a VIP.
I flew to New York and then to Silicon Valley. I met with Fred Wilson, Sean Parker, and Accel Partners. I don't know how much money they would have given me if I'd said yes. Millions, maybe. But I was afraid to take their money. I felt like I was writing a novel. You can't bring in other authors into a novel. It's too personal. The only money I've taken was $1,000 from my father for servers. The site is supported by ad revenue.
In the summer our traffic fell in half, and the offers from investors decreased by the same proportion. I went back to Russia to get a new visa. Reporters said Chatroulette was dead—that there was too much nudity. That's cool, I guess. It's part of the story. If it had all been success, it would have just been boring.
I moved to Palo Alto, California, in December. Chatroulette now has one employee and some contractors. We're still privately owned by me. I don't want to tell you how much money we're making, but it's enough to cover our costs. I will probably do Chatroulette for the next five years, but I don't want to limit myself to a chat site. My dream is to have a big company that does lots of interesting stuff.
Sometimes it feels like it wasn't me who experienced these things. That year was crazy and awesome. It was too good to be true. But I've been trying to see how politicians react—they look so cool, as if they don't care—so I'm trying to be like this.