Mangia Sano, Mangia Siciliano – Eat Healthy, Eat Sicilian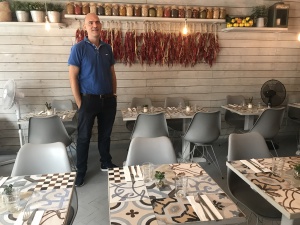 New Italian restaurant 'Pane Cunzato' only opened its doors six months ago but is causing a shake up on the London restaurant scene. Located perfectly in the centre of Holborn, The National Post got an exclusive interview with founder and owner Fabrizo Famularo.
How long have you been in the restaurant business for?
I grew up in the restaurant business on my home island of Lipari (one of the 7 Aeolian islands, just off the coast of Sicily). My family owns a restaurant and hotel there. Between March and October it is an absolute paradise, it attracts many tourists. In 1992 I moved to London and began working in many different Italian restaurants across the city allowing me to explore London and fall in love with the city. From 1998 I ran a restaurant in Milan with my family but after 7 years I wanted to leave Milan and try somewhere new.
What made you want to launch a restaurant in the UK?
When I was living in London, I completely fell in love with the city and always wanted to return. I moved with my wife and two young children to London for 5 months in 2014 to try and find the perfect location for a restaurant but I was unsuccessful in finding the right place for me. Last year, I came on a holiday to London as I frequently used to do as I love the city so much. One day we went to the British Museum and we came to eat here. At this time it was a burger restaurant and I got talking to the owner and he mentioned how he wanted to sell. I asked him, I will buy the restaurant if you can wait until October. At this point it was February and I had to go back to Lipari for the summer season of tourists. I came back September last year and launched Pane Cunzato.
Holborn is one of the best central locations for the restaurant business. How has it been being positioned at the centre of all the action in London?
Yes, we are in a great location. You have everybody who lives and works in the local area and also all of the tourists. We get a lot of tourists come and eat here as we are right next to the British Museum, around 12,000 people visit the museum every day.
Describe the cuisine at Pane Cunzato and what makes it different from all other restaurants?
Everything is based around the food we eat in Lipari, lots of bread and very fresh ingredients. I get all my ingredients from Sicily to make sure every gets the true fresh taste. We focus on healthy eating as well as good eating.
Your menu features dishes from Southern Italy. Can you explain to the National Post readers the cuisine in that region?
It is all very healthy foods, fresh vegetables and using ingredients from what is around us. We like to use high quality ingredients, which always taste great. We have capers, olives, ham, bread etc.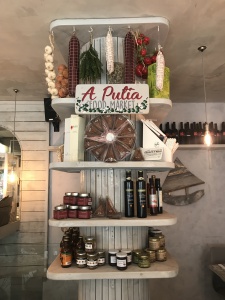 What is your favourite dish?
My favourite dish in Pane Cunzato is a classic, using tumminia flour as it has a long levitation and is a traditional Sicilian ingredient, is a bread that we do using mozzarella, tomato and anchovy that we bring from Sicily.
There is often a huge debate between authentic pizza like the one prepared in commercial pizza takeaways and more traditional restaurants. For someone who is not a pizza connoisseur, what would you say we should look out for?
In Sicily we eat so much bread that people have become very allergic to the yeast. With our pizza we don't use yeast to make the dough rise, instead we leave it to sit for 48 hours and the ingredients become a natural yeast. This is much healthier and makes the pizza much lighter.
What are your opening and closing times at Pane Cunzato and how can one book a table?
We are in our first year so we open at 12 o'clock and we close at 10:30pm. To book a table, you can go on our website its very easy to book, and of course in a few months we are planning on being on many other social websites like open table.
You have received great reviews online. What would you say the secret is to keeping the customers happy and coming back?
Well I don't know if it is a real secret, we try to give a good service and we bring all of our dishes from Sicily to explain what we are and who we are. Of course you can't forget always being friendly to customers and providing a good quality of food.
As an Italian in London, we would like to ask you the Top 5 things you love about London?
I love this city, its difficult for me to say 5 favourite things. One could be this is a huge city with around 10 million people but you feel like you live in a small city as there is a lot of city but near each other. I like the organization of this city.
Where would you like to see Pane Cunzato in 5 years time?
Everything in my restaurant is based around Lipari, one of the 7 Aeolian Islands, including all the decor and food. The colour of the wall is set to match the pumice stone, which can only be found in Lipari or in Greece, the only two places in Europe. I hope to open 6 more restaurants each of which will represent one of the 7 Aeolian Islands. They will all be based around their island using decor and food inspiration. Most people in London do not know the beauty of the islands, so this is bringing the islands to the people of London.
To book a table please visit the Pane Cunzato website:  http://panecunzato.com
Or call them on 0203 581 1747
They are located at 49 Museum St, WC1A 1LY, London
Opening and closing times:
Monday: 12:00 – 21:30
Tuesday: 12:00 – 22:00
Wednesday: 12:00 – 22:00
Thursday: 12:00 – 22:00
Friday: 12:00 – 22:00
Saturday: 12:00 – 22:30
Sunday: 12:00 – 21:30