The tech company, IBM  today announced that it has closed the acquisition of The Weather Company's B2B, mobile and cloud-based web-properties,weather.com, Weather Underground, The Weather Company brand and WSI, its global business-to-business brand. The cable TV segment was not acquired by IBM, but will license weather forecast data and analytics from IBM under a long-term contract.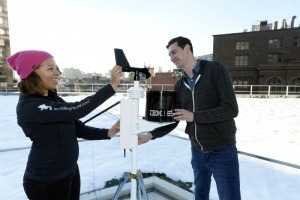 The combination of technology and expertise from the two companies will serve as the foundation for the Watson IoT Cloud platform, building on a $3B commitment IBM made in March 2015 to invest in the Internet of Things. The deal broadly extends the scale and capability of IBM's cloud data services platform and expands The Weather Company's enterprise services capabilities and consumer reach to a global scale, including plans to bring weather.com to new major markets such as Chinaand India.
"The Weather Company's extremely high-volume data platform, coupled with IBM Cloud and the advanced cognitive computing capabilities of Watson, is unsurpassed in the Internet of Things," said John E. Kelly, IBM's senior vice president, cognitive solutions and research. "This rich platform provides our clients significant competitive advantage as they link their business and sensor data with weather and other pertinent information in real-time. We can arm entire industries with deep insights to help enterprises gain clarity and take action on the oceans of data being generated around them."
At the close of the acquisition, IBM announced a number of related initiatives:
Beyond Weather: The Weather Company Cloud Data Platform to Serve as Backbone for Watson IoT
The Weather Company's dynamic cloud data platform, which powers the fourth most-used mobile app daily in the United Statesand handles up to 26 billion inquiries to its cloud-based services each day, will run across IBM Cloud data centers globally and serve as the technology backbone of IBM's data services and Watson IoT businesses.
Leveraging one of the world's most scalable, high performance and flexible data platforms, IBM can now collect an even larger variety and higher velocity of data sets from billions of IoT sensors around the world while also serving out real-time information and insights to tens of millions of users worldwide. The new platform offers developers greater flexibility to access, store and analyze IoT sensor data and to create new apps with richer and deeper insights powered by IBM Watson.
IBM is dedicating more than 2500 developers worldwide to help its clients and partners collect, analyze and act upon entirely new forms of IoT data resulting from the proliferation of automobile and airplane telematics, building and environmental sensors, wearable devices, medical implants, weather stations, smartphones, social media, manufacturing lines and supply chains, among others.
weather.com to Expand Globally
IBM announced plans to expand weather.com into five new major markets, including China, India, Brazil, Mexico and Japan, with the goal of increasing its global user base by hundreds of millions over the next three years. The company plans to leverage local media partnerships and the IBM Cloud network of over 45 data centers to drive much more local and personalized content to each region.
CEO David Kenny to Lead IBM Watson Unit
David Kenny, who was chairman and CEO of The Weather Company, and previously president of Akamai Technologies, assumes leadership of the IBM Watson platform business. He brings deep expertise in building platforms used by tens of millions of people daily as IBM continues to scale the Watson technology platform. He will oversee the build out of the Watson partner and developer ecosystem, key APIs and emerging solutions powered by Watson. He joins Harriet Green, formerly CEO of Thomas Cook, who leads Watson IoT, Education and Commerce, and Deborah DiSanzo, formerly CEO of Philips Healthcare, who leads Watson Health.
Michael Rhodin, who launched the Watson business and drove the formation of Watson Health and Watson IoT, will now lead Watson Business Development. He will identify and incubate the next major industries and domains for Watson and will oversee related acquisition strategy.
The Weather Company will be led by Cameron Clayton, who was most recently its president, product and technology, and becomes part of IBM's Data and Analytics Platform business unit.
Financial terms of the deal were not disclosed.
WSI, The Weather Company's business-to-business brand, will now be known as The Weather Company, an IBM Business.