In August 2019 at the venerable age of 72, I, Magi Sque, an Emeritus Professor, fulfilled my teenage dream to launch a fashion label, Magi Rose London. I had carried the ambition to develop a clothing brand for the best part of 50 years. So why did I carry that dream for so long and how did Magi Rose London get started?
I grew up on the Caribbean Island of Jamaica and started my working life in 1965, aged 17, as an attendant in a clothing boutique in the resort town of Ocho Rios. Although I had been making my own clothing since the age of 16, this was where my love of fashion was ignited, a love that has lasted a lifetime. My interest in fashion however was a hobby and I had to make viable career choices.
I decided to study nursing having been inspired by the 1960's TV series Dr. Kildare. At that time there were no facilities for training nurses in the West Indies so young women went abroad to the USA, Canada, and the UK. My father who had unfulfilled dreams of becoming a doctor told me that if nursing was my chosen profession then, 'I should do it properly,' and apply to Guy's Hospital in London. His cousin had trained there and had become an eminent brain surgeon.
So, for one year every Friday evening, I gave my mother the £5.00 I earned each week. The money was saved to pay for my passage to travel to England on a banana boat, to study nursing. So, as an eager 18-year-old I arrived in England on a cold February day in 1966 following a 10-day Atlantic crossing on a banana boat.
I qualified as a state registered nurse in 1970 following training at Guy's Hospital. I spent the next 48 years working clinically in healthcare both in the UK and Canada. Specializing in cancer nursing I rose through the ranks from staff nurse to a joint appointment as Professor of Clinical Practice and Innovation at the University of Wolverhampton and The Royal Wolverhampton NHS Trust.
I have always enjoyed clothes and I feel fortunate that my career path took me to places where it was possible to dress-up or dress-down: such as into meeting rooms across the world, the Vienna Opera House or working with students in simulated rescue missions in burnt out buildings and onboard navy ships.
With retirement from the day job looming and far too much energy to put my feet up, it seemed the perfect opportunity and the ideal time to grasp the nettle and indulge my lifelong passion for fashion by creating my brand of clothing, bringing Magi Rose London to life.
As I write, several wonderful quotes come to mind, for instance, 'never give up on your dreams', 'you should aspire to have a dream', etc. For me, however, I spotted advice, which lent real meaning to my situation and which I found energising and inspiring. It was in a Sunday Times Magazine (22 July 2018 p66) article, 'A Life in the Day'. The advice was given by Evan Sharp, co-founder of Pinterest social media platform. It read, 'It's never too late to start something new'. Being a planner, I decided retirement, rather than the end would be a new beginning!
Very easy to say, but where would I start? Although I have always appreciated beautiful, high quality, hard-wearing clothes, my domain knowledge of the fashion industry was virtually non-existent. Adequate technical understanding of the field would be essential. This would be a completely new area to break into and the challenges could not be underestimated.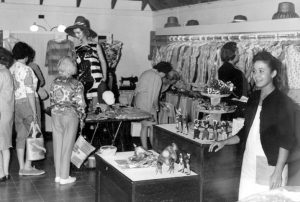 There was also the fear factor. Yann Martel in his novel, 'The Life of Pi' (1981, p56-57) gives one of the most impressive expositions on fear. He casts it as, 'a clever, treacherous adversary…has no decency, respects no law or convention, shows no mercy. It goes for your weakest spot, which it finds with unerring ease'. Even doubt and reason Martel suggests are laid low allowing your anxiety to become dread. I had already completed a career leaving my profession with the highest accolade as an Emeritus Professor; an episode of failure could tarnish my latter years. Wise people, however, have said that you should follow your dream whatever it takes.
It has been said that to predict the future is to invent it. I did not need to limit my future based upon my past. I needed to create a new reality for myself and make a start, there was no waiting for the perfect time. I created my opportunity by attending a business start-up weekend in London in April 2018, for people interested in starting their own business. This was truly an eye-opener for me. One day I might like to be one of the invited speakers who shared their stories. At the event, I was able to engage a business mentor. I was on my way! The only other things I was certain of was that whatever I did I would need a pattern cutter and learn how to use social media to market my brand.
During my search for a pattern cutter, I came across Katy Cordina, Director of FashionWorks London @fashionworkslondon.com, a support agency for fashion start-ups, who helped, in less than a year, to bring my vision to life.
After finding myself frustrated at the abundance of fast fashion and often poor-quality high-street options available, I wanted to provide alternatives for women and men who were happy to invest in high-quality, long-lasting, sustainable clothing. I launched Magi Rose London as an online shop offering wardrobe choices that are distinctive, fun to wear and perfect for warm weather, off-duty, downtime or holidays all year round.
Magi Rose London has been designed to appeal to the woman or man who desires style over throwaway fashion, values quality and wants to purchase fun, environmentally friendly wardrobe staples to return to time after time. All Magi Rose clothing is designed and manufactured in the UK using premium fabrics that are printed in exclusive vibrant designs.
Magi Rose conducts its activities with integrity, in a socially conscious and ethically responsible manner. The aim is to have the least impact on the environment. All garments are designed with essential versatility in mind. They can be worn for daytime or evening engagements, while out and about, or simply relaxing at home. I aim to provide customers with clothes that are distinctive, comfortable, and convenient.
Whatever the situation there are three outstanding criteria I demand from clothes, i.e., comfort, high-quality fabrics, and sound construction. These are all qualities that the Magi Rose collection adopts.
Age should never be a barrier when it comes to doing what you love. The process of starting again has provided me with purpose, new interests, friends, and associates, by never letting go of that 17- year old's dream!
Magi Rose has confirmed joining the National Film Awards UK, which takes place on the 4th of July 2022
Magi Rose commented "We are super excited to partner with the National Film Awards this year. Fashion and the film industry go hand in hand so we are thrilled to introduce film fans to the Magi Rose brand"
The full collection is available to buy through the website www.magirose.co.uk