Entrepreneur, Jordan Kensington was invited to Buckingham Palace on Valentine's Day (14.02.18) to be honoured by the Queen at Buckingham Palace to celebrate his achievements.
Kensington who was born in the UK but has an African background from Cameroon, Africa proudly represented the continent at the reception hosted by The Queen at Buckingham Palace to celebrate the achievements of the Commonwealth Diaspora community.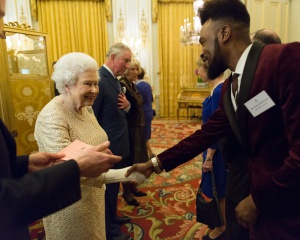 The event, which was held on Wednesday evening, was also attended by The Prince of Wales, The Duchess of Cornwall and The Duchess of Gloucester, and by Prime Minister Theresa May.

The event offered an opportunity to recognise people of Commonwealth heritage who have made a positive contribution to business, community and culture in the United Kingdom.
Jordan Kensington commented "18 years of running several companies and getting hardly any recognition. It was great that the first recognition I got was from the very top! God is Good"

"I am happy, proud and excited but at the same time," said serial entrepreneur Kensington

"I  am representing young people around the UK and the world who sometimes are underlooked to show them that hard work, dedication and being smart with our present choices certainly pays off. It is a huge honour".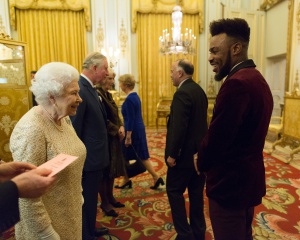 The serial entrepreneur is behind the brand Invincible, a media, events, hotel property and brand marketing agency he launched at age 18 in 1999. Kensington made his millions in the early 2000's investing into the property market both in Europe and Africa. In the entertainment industry, he championed a plethora of artists and entrepreneurs founding the Urban Music Awards and British Small Business Awards. His net worth is reported to stand at 18 million dollars. His media and marketing agency Invincible has worked with brands such as Samsung Mobile, Footlocker, British Airways and much more.
When introduced the Queen commented "Jordan Kensington, we are all very proud of your achievements"
His book, 'Mr. Invincible' – Following My Intuition was released in December and sold over 5000 copies in its first week. Mr Invincible – Following My Intuition is an autobiographical journey that sees one of Britain's most inspirational serial entrepreneurs go through his start-up years of launching a successful media, music, entertainment, and property company with offices in six countries from age 18. The book recounts memorable stories, featuring characters such as Beyoncé, Diddy, Boris Johnson, MP Vince Cable, Kanye West, and many more. Kensington is often called the King of Urban Music in Europe, as he is well known for championing urban music in Europe; through the prestigious Urban Music Awards (an organisation he created over 15 years ago). Overall, the book sees an actual woven connection to the core title "Following My Intuition", which shows that every aspect from random meetings, acquaintances, and opportunities exists in life to open the doors and windows to bigger and better things; especially if we decide to believe in our gut instincts, and appreciate the cards dealt with. A great read, and already shortlisted by the judging panel of the Global Best Books Awards in the "Best Non-Fiction" category.
To Order 'Mr Invincible' – Following My Intuition. Go here;
https://www.amazon.com/Mr-Invincible-Following-My-Intuition/dp/198369004X/ref=sr_1_1?ie=UTF8&qid=1518818721&sr=8-1&keywords=mr+invincible+following+my+intuition