Mauritius or as the French will call it Maurice is an island steeped in tradition. Located in the Indian Ocean about 2000 kilometers off the south-East coast of the African continent. Translated, it is basically Africa at it's finest…The island of Mauritius was visited during the middle ages by the Arabs, then by the Portuguese who named it Dina Arobi and Cirne, respectively. The island was uninhabited until the Dutch Republic established a colony in 1638, with the Dutch naming the island after Prince Maurice van Nassau. Those clever Dutch are not only known for their wacky cakes in Amsterdam… pause…. Because I think there was some wacky cake interference as the Dutch colony was abandoned in 1710, and five years later, the island became a French colony and was named Isle de France.  Last week, we had the chance to cover the 1st annual Mauritius Business Awards which took place at the magnificent jewel in the Indian Ocean, Angsana Balaclava Mauritius Hotel.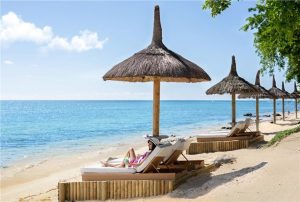 Imagine you touching turquoise lagoon waters and wiggling your toes in warm golden sand, well at the Angsana Balaclava Mauritius Hotel – there is no need to imagine because this is the experience reserved for those who discover this treasure in the middle of paradise.  Nestled in a secluded cove in Turtle Bay, just next door to the lovely tourist village of Grand Baie, on the picturesque North West coast of the island of Mauritius, is a tropical oasis where luxury blends with stylish rustic elegance and well-being, Angsana Balaclava Mauritius.
With 54 stylish suites and a lavish Imperial Jet Pool Villa, featuring private infinity pools and hammams, jet pools, an award-winning spa and wellness centre, delectable gourmet offers, world class conference facilities, exhilarating experiences on tranquil lagoon from water-skiing to kayaking and wellness retreats, you will find here the answer to your ultimate quest for a perfect tropical lifestyle and re-invigoration.
As a responsible tourism organisation, and in preparation for the return of travel, Angsana Balaclava Mauritius is fully committed to provide to future travelers and associates alike a safe and secure environment. Hence, as of June last year, the hotel has been awarded the "Safe Travels" stamp. This stamp has been specifically designed by the World Travel & Tourism Council (WTTC) and will thus allow travelers to recognize their commitment to implement and adhere to the health and hygiene protocols as recommended by the WTTC and that are aligned with their Global Safe Travel protocols. Protocols , aside whether you are a Mauritian looking for somewhere to relax, energise and recharge or you are a tourist looking for an escape. The Angsana Balaclava Mauritius has it all and when you there make sure you check out the brilliant Assistant Sales & Marketing Manager, Gary Leung who goes above and beyond to make all guests feel welcomed. What are you waiting for? make Angsana Balaclava Mauritius a future destination on your list of hotel discoveries.
For more information and or to book your stay. Please, visit:
https://www.angsana.com/en/mauritius/balaclava-mauritius