The great thing about music is that it is universal and something you create in one part of the world can literally spread across different countries and if you are consistent and make good music. It only takes a matter of time to be successful. Persistence plus quality leads to success. This week we got an introduction to Haiqeem, an  Alternative Rock band a band founded by Singer/Songwriter Haiqeem (Al Hakeem Muhammad II) who was born in Oklahoma City, OK in 1992. After doing music for several years, He teamed up with experienced  Rock Guitarist Shelby Pamplin, and revolving door of other players trying to take "HAIQEEM" from a solo project to a band; "HAIQEEM" emerged a pop/rock duo. Shelby is the lead guitarist of the duo. The song "Sorrow"  is accurately what the Doctor prescribed for a time like this. The song which was written by Anna Tsuchiya and Katina Lina  conveys a feeling in a deep way inspiring any listener to interpret connected to their own personal story. Although, i will naturally say, Haiqeem have a unique style that can't be put in a box. It is clear to see that 'Sorrow' has a unique blend of Metal, Trap, contemporary pop/rock. It is clear to see influences with;  Nat King Cole, Nirvana, The Psychedelic Furs, The Beatles,  David Bowie, Sarah Vaughn,The Smiths, Lenny Kravitz, and many more.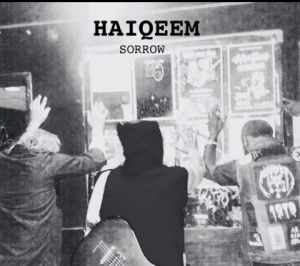 'Sorrow' which is out now is certainly a stand out track. We all admire artists who are not afraid to put out honest music. Audiences can quickly recognize and relate to an artist who can sing a story based on their own life….every line of lyric. Haiqueem is one of those rare breeds of artists, one who can pin the sincerity meter. 'Sorrow' breathes believability, passion, and a heartfelt sense of understanding into everything he sings.
In for the long run, Haiqueem has been wooing, serenading, moving, and winning over fans around the globe since he was a teenager thanks not only to a dynamic and soulful vocal delivery that emerged at a very young age, but an undeniable drive to pursue all possibilities with his God given gift and 'Sorrow' is a song that certainly go to show they are definitely here for the long run.
Click here on Spotify to listen to 'Sorrow'