Sumosan Twiga London is ramping up its stable of chefs with the recent appointment of Cláudio Cardoso, joining the restaurant's hospitality brand, Billionaire Life Group, as Corporate Chef. As Corporate Chef and Co-Chief Operating Officer, Cardoso will supervise all aspects of Billionaire Life Group's culinary offering across its venues in Monaco, Dubai, Italy and London.  This latest news follows the appointment of Chef Reif Othman as the group's Executive Chef who will be developing innovative Japanese menus forming Sumosan Twiga's East meets West culinary pairing. 
Cardoso joins Billionaire Life Group from Orange Brands Management where he worked as Corporate Executive Chef with the SUSHISAMBA brand from 2013. With significant influence, Cardoso directed the Kobe beef programme at the London venue, featuring the city's first ever Kobe Ishivaki experience. Cardoso's motto of 'challenge everything' left a bold, stylish imprint on the brand's experimental Japanese menu. 
Born and raised in South Africa in to a recognised family in the Portuguese food industry, Cardoso was heavily influenced by cross-cultural cuisines, from his mother's South African specialities and his father's Portuguese gourmet flair. He began his formal training at the age of 15 in Estoril before pursuing apprentice roles across the globe, taking him from the Lapa Palace Orient Express in Lisbon, Sheraton Hotel in Bahrain and Le Quartier Français in Franschhoek, South Africa
In Portugal, Cardoso worked at Casa da Dízima, Quinta de Catralvos in Azeitão with Executive Chef Luís Baena, and Hotel Solar dos Mascarenhas in Vila Viçosa. Following graduation, Cardoso acquired his Japanese training at Midori with The Ritz-Carlton Hotel Company at its Sintra property, Penha Longa Resort, and the oldest Japanese restaurant in Portugal.  In 2009 he moved to the Burj Khalifa and The Armani Hotel in Dubai before returning to Portugal with his post at the Sushi Café Avenida in Lisbon, incorporating innovative molecular gastronomy techniques, elevating the venue and establishing its existing reputation for high end Japanese cuisine.  In 2011, Cardoso returned to The Ritz-Carlton's Penha Longa Resort in Sintra as Head Chef of Il Mercato, where he also spent time at the brand's Ritz-Carlton, Abama property in Tenerife.
Cardoso's passion extends beyond the kitchen with a true focus on the environment, bringing a sustainable approach to as many aspects of his work as possible. After cooking for the 50 best chefs in the world and collaborating with chef Virgilio Martinez from restaurant Central in Peru, he became an ambassador for Cool Earth, where he travelled to the Peruvian Amazon, working alongside Vivienne Westwood to promote awareness of rain forest conservation and the prevention of logging in the Ashaninka territory.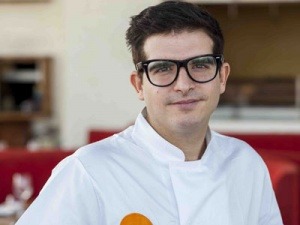 Chef Cláudio Cardoso comments, "I see food as something limitless – be that in flavour, visually or bringing back memories. I want to stimulate, introduce people to new and adventurous ways of eating and encourage them to see food as a piece of art from conception to elaboration and consumption. It is important for me to work with seasonal products and never to forget the history of food and what our ancestors used to eat. For me, respecting cultures, produce and the planet are the heartbeat of any successful restaurant business."  
Launched in November 2016, Sumosan Twiga London celebrates a colourful pairing of traditional Italian and contemporary Japanese cuisine. Combining the Italian spirit and traditional culinary flavours of Monaco's Twiga restaurant with the reputation of Mayfair's legendary Japanese favourite 'Sumosan', Sumosan Twiga offers an elegant three floor gastronomic residence with the energy of a private club. Two menus pack a sophisticated punch, where Venetian-inspired Italian classics sit aside an innovative Japanese menu, synonymous with the Sumosan brand in London, Moscow and Dubai. 
165 Sloane Street, London, SW1X 9QB, www.sumosantwigalondon.com / 0203 096 0222