Millions of British women would rather give up sex than snacks, according to new research.
Over four in 10 women would prefer to forgo nookie over cookies for a month, compared to just a quarter of men.
A third of women are likelier to cut down on snacking by seeing unflattering photos of themselves online, according to a poll of 2,000 UK adults.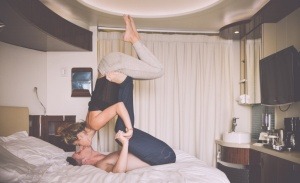 In comparison, only a quarter of men would find it easier to give up sex over snacks and just one in five would be prompted into action by uncomplimentary photos on sites like Facebook and Instagram.
The survey of 2,000 UK adults was conducted by Optiwell, a new yogurt drink full of goodness with no added sugar and just 64 calories per glass.
It found that 27 per cent of women are motivated to snack less for a swimsuit holiday compared to just 15 per cent of men.
The sofa is the main snacking centre, with 52 per cent of women and 44 per cent of men admitting it's where they are most likely to graze unhealthily.
And a third of adults said workmates were to blame for tempting them to tuck into biscuits, cakes, chocolates and crisps during office hours.
A spokeswoman for Optiwell said: "The results show how attached we have become to snacks and snacking.
"It's remarkable that so many people are prepared to sacrifice their love lives instead of their snacking habits.
"Our philosophy is all about balance – swapping unhealthy snacks for tasty, healthy alternatives, like Optiwell means resisting temptation has never been so easy."
A fat free yogurt drink with no added sugar and just 64 calories per glass, Optiwell is available in both a 1L carton and convenient 330ml bottle.
It can be enjoyed at home or on-the-go and is available from the long life aisle in Tesco and other convenience stores throughout the UK.