Mark's past releases include  2010's "Walls of Jericho" filled with intricate guitar work and mixed with a plethora of sounds from hard rock to a much more lighter vibe and 2015's "Brussels"   was also one for the books. The recent LP Empirical Truth, sees Mark go back to his original roots especially with songs such as Mississippi Mile and Seven Days which really expose Mark's talent as a prolific songwriter and vocalist.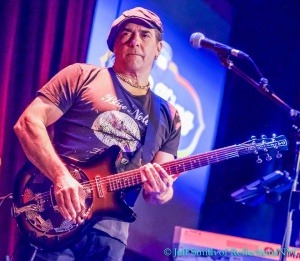 Audiences can quickly recognize and relate to an artist who can sing a story from experience….every line of lyric connects with the listener. Mark Newman is one of those rare breeds of artists, one who can pin the sincerity meter into the red every time she steps up to a microphone. A recognized veteran of the  music scene, and listening to 'Life Without me' , Mark breathes believability, passion, and a heartfelt sense of understanding into everything he sings.
In for the long run, Mark has been wooing, serenading, moving, and winning over fans around the globe since he was a teenager thanks not only to a dynamic and soulful vocal delivery that emerged at a very young age, but an undeniable drive to pursue all possibilities with his God given gift.
One of my favourite tracks on the album  Empirical Truth  is  "Scapegoat",  which kicks off with a fantastic flow of  bluesy guitars leading to a  down right dirty melody full of pumping energy to get any audience shouting for more. You can't simply escape the base as the  bassline and perfect drum play provide the rhythm that further energises the whole song. When the organ solo kicks in, you've got that perfect meal. Like a chef in the kitchen, Mark has honed the craft of getting all the right ingredients in place to make the perfect recipe and 'Scapegoat' and the album certainly speak volumes.
Empirical Truth Track Listing:
Scapegoat
Life Without You
Mississippi Mile
When I Aim My Gun
Seven Days
One More Song About A Highway
Sharin' The Blues
Pipeline
Are You Lonely For Me
Everything You Know
Roll Um Easy
Lycanthropy