22-year-old London-based singer and multi-instrumentalist Jacob Collier, who became the youngest British jazz artist to win a Grammy last month, has been confirmed to perform at BBC Music's SXSW showcase in Austin on Wednesday March 15th. Collier joins the likes of Rag 'N' Bone Man, Kate Nash and Slaves on the line-up for the prestigious  5-day event, which takes place from March 14th – 18th at the British Music Embassy at Latitude 30 in partnership with PRS for Music, PPL, PRS Foundation, AIM and DIT.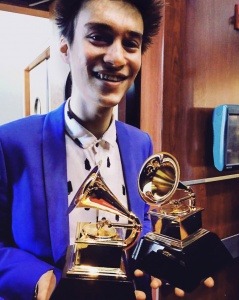 Collier picked up two Grammy awards – for "Best Arrangement, Instrumental Or A Cappella" for his version of Stevie Wonder's 'You and I' and "Best Arrangement, Instruments and Vocals" for his version of the theme tune to 'The Flintstones' – at last month's ceremony and continues to cement his reputation as one of the most distinctive, inventive and prodigious young musicians to have emerged in recent years.
His debut album In My Room is out now on Membran.