With seas of jostling crowds and sky-high costs (not to mention jellyfish and riptides), ocean retreats can be more frustrating than fun, which is why we've compiled a list of quintessential American lake towns. These are places where you can swim and sunbathe to your heart's content and fill up on BBQ, grilled trout and freshly made apple pie as you watch the sun go down from your balcony. If you're anything like us, you may decide to turn one of these trips into a new summer tradition.
Slideshow: 8 perfect summer lake towns
Coeur d'Alene, Idaho, on Lake Coeur d'Alene
Framed by pine-forested hills, the deep blue Lake Coeur d'Alene is 25 miles long. At the northern end, weekenders from Seattle and California pack the town's brewpubs and art galleries, while its southern reaches are more secluded, with sheltered coves and inlets. The best ways to soak it all in is by kayak; the guides at ROW Adventures will point out wildlife like eagles and osprey along the way as you paddle (four-hour excursions from $67 per person).
Where to Refuel: There's almost always a line outside Hudson's Hamburgers, but its Huddy Burgers — garnished only with pickles, onion and a closely guarded ketchup recipe — are well worth the wait. 207 E. Sherman Ave., 208/664-5444, burgers from $2.45.
Where to Stay: McFarland Inn Bed & Breakfast has been a familiar sight in the historic garden district since the building was constructed in 1905. Its five rooms are small, but quaint, and it's only a 15 minute walk to the lake. 601 E. Foster Ave., 800/335-1232, mcfarlandinn.com, from $155, breakfast included.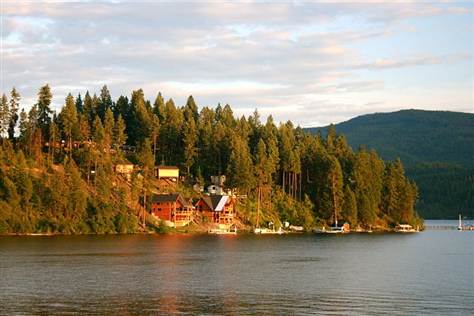 Sackets Harbor, N.Y., on Lake Ontario
This under-the-radar gem along Lake Ontario in New York is not only rich in colonial-era history, but it's also pretty darn scenic, too. A battlefield from the War of 1812 has been converted into a lakefront park, while yacht clubs dotting the harbors to the south lend an almost Riviera-like feel. Spend the day at Robert G. Wehle State Park, a waterside retreat of pastures and hiking trails (315/938-5302, nysparks.state.ny.us). Snakefoot Trail is the most popular, with stunning views from limestone cliffs that tower some 80 feet high.
Where to Refuel: Tin Pan Galley's sunny outdoor patio makes a great place to kick off the morning, with Mediterranean omelets and French toast stuffed with cream cheese and topped with maple butter and fresh strawberries. 110 W. Main St., 315/646-3812, tinpangalley.com, breakfast entrees from $5.
Bigfork, Mont., on Flathead Lake
If mountain-ringed Flathead Lake captures Big Sky Country's raw beauty, the town of Bigfork makes for an artistic counterpoint. The Riverbend Concert Series runs each Sunday of the summer through mid-August, while the Bigfork Festival of the Arts welcomes food, jewelry, and crafts vendors to the town on Aug. 6 and 7. There's also Wild Horse Island, a Tom Sawyer–like preserve of pastures and pioneer homesteads — reach it via charter boat (406/837-5617, wildhorseislandboattrips.com, trips from $80 per hour for up to seven adults).
Where to Refuel: Bigfork Inn's chalet-style restaurant has an outdoor deck in the summer months and standout prime rib. 604 Electric Ave., 406/837-6680, bigforkinn.com, entrees from $8.50 ($24 for the prime rib).
Where to Stay: Historic Tamarack Lodge & Cabins is set right in the midst of Flathead National Forest. The main lodge has one room that sleeps two, but most folks book one of the 18 cabins. 9549 U.S. Hwy. 2 East, 877/387-4420, historictamaracklodge.com, from $114.
Saugatuck, Mich., on Lake Michigan
Long a weekend getaway for Chicagoans, Saugatuck's independent shops, trendy restaurants and LGBT presence are starting to gain the town national attention. But beaches are its trademark, with long sandy stretches that often feel more Miami than Midwest. Oval Beach is one of the most popular with picnic areas and sheltered dunes. Ride the Saugatuck Chain Ferry from downtown to Oval; it's the only hand-cranked chain ferry on the Great Lakes (adults and children ages 3 and up $1).