Anchorman, Superbad, The 40 Year-Old Virgin… Producer Judd Apatow has helped make the last seven years a lot funnier. Meanwhile, fans of mainstream female-focused comedies have mostly been offered insipid J-Lo vehicles and Sex And The City movies. Thankfully, Apatow has turned his attention to the fairer sex, although most members of this bridal party are far from coy. Kristen Wiig's Annie has a blunt wit, a regular fuck-buddy (Mad Men's Jon Hamm) and could drink Bridget Jones right under the table. She also has a tendency for self-doubt and a problem with organisation, both of which come to the fore when she's asked to play Maid Of Honour for Maya Rudolph's Lillian.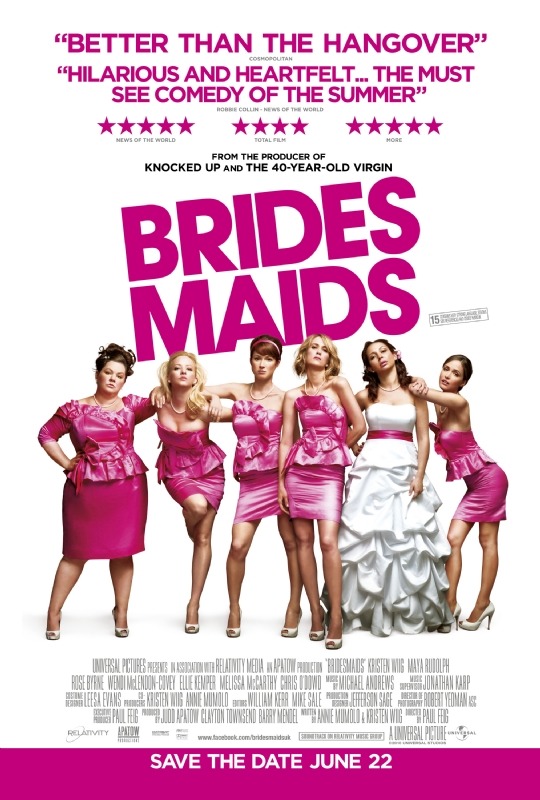 Co-writer Wiig has created a heroine with bitterly funny, relatable character observations and a genial, down-to-earth performance. Annie is no clotheshorse tripping in her heels, nor is she man-obsessed. She may go for the wrong kind of guys but her main concern is a female friendship, and it's this that makes Bridesmaids stand out from the regular chick-flick crowd.
Lillian's engagement is a wake-up call for Annie, casting a spotlight on her singledom. The last thing Annie needs is an immaculate rich bitch upstaging her at every opportunity. Enter Rose Byrne as Helen. The mistress of the backhanded compliment, Helen's always on hand with a patronising comment about Annie's bridal party preparations. She also gives the nervous flyer something to calm her down on a plane, leading to the film's funniest scenes.
At its best, Bridesmaids is proper, laugh-out-loud, sides-clutching, grin-at- your-mates funny. The airplane scenes see a sky-high Annie trying to sneak into first class to join her friends, even failing in her attempts to insult the air hostess. Meanwhile, each character has a subplot building, including Megan (Melissa McCarthy), who's confidently cracking onto a man she's convinced is an air marshal. When these strands come together, it's explosively hilarious — just like the bridal shop scene where the girls get sudden, debilitating food poisoning. Like many a guys' comedy, the film isn't afraid to flirt with gross-out, but doesn't throw in toilet humour for the sake of it. It makes it relevant to both plot and character and, just possibly, funny to women who normally hate that kind of thing.
Regular Apatow fans will be on the floor at this point, and that's another thing that makes Bridesmaids unusual: it appeals to men too. Yes, a lot of the humour revolves around female rituals and neuroses, but the writing's strong enough to bridge the gender gap. It's no surprise this has been compared to The Hangover, a buddy-wedding-comedy that drew fans from both sexes. Bridesmaids even has its very own Alan in Megan, the outspoken, overweight and somewhat deluded sibling of the groom.
It's a shame, then, when Bridesmaids shoehorns in a romance, even if it is with the lovable Chris O'Dowd. Playing a kindly cop, O'Dowd provides a shoulder for Wiig's character to cry on but their scenes cost the film its pace. Even Matt Lucas (Annie's flatmate) feels like he's wandered in from another film, albeit a very funny one. Still, while Bridesmaids isn't perfect, it does have moments of comedy perfection. And precious little in the way of Manolos.