There's a scene in DELHI BELLY in which Nitin (Kunaal Roy Kapur) has a stomach upset and goes to the loo every now and then. After a couple of visits, the water tap runs dry. Unable to find a single drop of water in the entire house, he uses orange juice kept in the freezer to well, " "complete his job". DELHI BELLY has several such gross scenes, but they do manage to evoke laughter.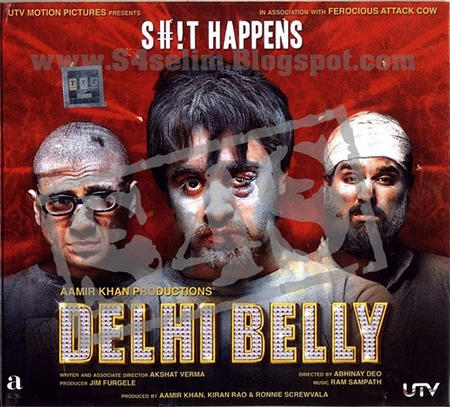 It's about three friends and flatmates whose lives go haywire. Tashi (Imran Khan) is a journalist who's about to get married to his girlfriend Sonia (Shenaz Treasury). Nitin is his photojournalist friend who also does part-time blackmailing. Arun (Vir Das) is perpetually troubled by his annoying boss. To make matters worse, his girlfriend dumps him. A bizarre turn of events finds them involved in a really tough situation. Their lives are at stake.
Aamir Khan, one of the producers of DELHI BELLY, had repeatedly mentioned in interviews that it has foul language and is strictly for adults. Even the Bhag D.K. Bose song, which became a rage, had some very cheeky lyrics. True, the film is not for the kids. All the characters mouth the F word every now and then. But that's perhaps the way urban youth behave today. So, in the film it doesn't look offensive. In fact, if you are young, you are most likely to connect with the lingo.
Director Abhinay Deo executes the script written by Akshat Verma (also the Associate Director) well. However, he does take some time to get along with the story. The interval-less film has just the right amount of twists, to hold your attention. But you do hope the narrative was a bit tauter as it seems a bit lacklustre in portions. Perhaps, some more humorous moments would have done the trick. Nevertheless, the gags that are there are uproarious. The constant bantering between the three friends is very palpable. The slow-motion climax scene is smartly done.