In a career that slyly subverted Abstract Expressionism, toyed briefly with Minimalism, seemed barely to acknowledge Pop Art and anticipated some of the concerns of Conceptualism, Mr. Twombly was a divisive artist almost from the start. The curator Kirk Varnedoe, on the occasion of a 1994 retrospective at the Museum of Modern Art, wrote that his work was "influential among artists, discomfiting to many critics and truculently difficult not just for a broad public, but for sophisticated initiates of postwar art as well." The critic Robert Hughes called him "the Third Man, a shadowy figure, beside that vivid duumvirate of his friends Jasper Johns and Robert Rauschenberg."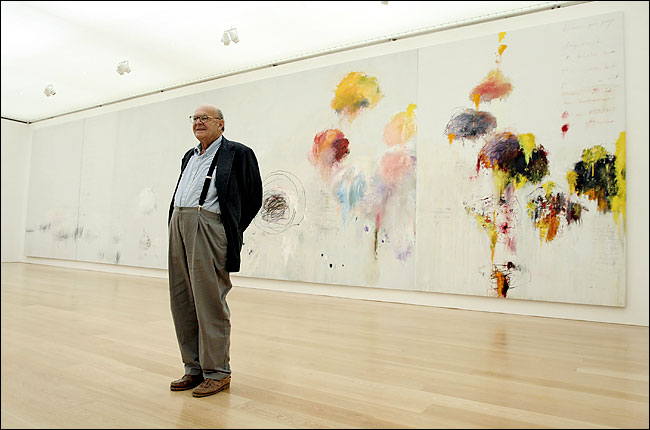 Mr. Twombly's decision to settle permanently in southern Italy in 1957 as the art world shifted decisively in the other direction, from Europe to New York, was only the most symbolic of his idiosyncrasies. He avoided publicity throughout his life and mostly ignored his critics, who questioned constantly whether his work deserved a place at the forefront of 20th-century abstraction, though he lived long enough to see it arrive there. It didn't help that his paintings, because of their surface complexity and whirlwinds of tiny detail – scratches, erasures, drips, penciled fragments of Italian and classical verse amid scrawled phalluses and buttocks – lost much of their power in reproduction.
But Mr. Twombly, a tall, rangy Virginian who once practiced drawing in the dark to make his lines less purposeful, steadfastly followed his own program and looked to his own muses: often literary ones like Catullus, Rumi, Pound and Rilke. He seemed to welcome the privacy that came with unpopularity.
"I had my freedom and that was nice," he said in a rare interview, with Nicholas Serota, the director of the Tate, before a 2008 survey of his career at the Tate Modern.
The critical low point probably came after a 1964 exhibition at the Leo Castelli Gallery in New York that was widely panned. The artist and writer Donald Judd, who was hostile toward painting in general, was especially damning even so, calling the show a fiasco. "There are a few drips and splatters and an occasional pencil line," he wrote in a review. "There isn't anything to these paintings."
But by the 1980s, with the rise of neo-Expressionism, a generation of younger artists like Jean-Michel Basquiat found inspiration in Mr. Twombly's skittery bathroom-graffiti scrawl. Coupled with rising interest in European artists whose work shared unexpected ground with Mr. Twombly's, like that of Joseph Beuys, the new-found attention brought him a kind of critical favor he had never enjoyed. And by the next decade he was highly sought after not only by European museums and collectors, who had discovered his work early on, but also by those back in his homeland who had not known what to make of him two decades before.
In 1989 the Philadelphia Museum of Art opened permanent rooms dedicated to his monumental 10-painting cycle, "Fifty Days at Iliam," based on Alexander Pope's translation of the "Iliad." (Mr. Twombly said that he had purposely misspelled "Ilium," a Latin name for Troy, with an "a," to refer to Achilles.) That same year, Mr. Twombly's work passed the million-dollar mark at auction. In 1995 the Menil Collection in Houston opened a new gallery dedicated to his work, designed by Renzo Piano after a plan by Mr. Twombly himself. Despite this growing acceptance, Mr. Varnedoe still felt it necessary to include an essay in the Modern's newsletter at the time of the retrospective, titled "Your Kid Could Not Do This, and Other Reflections on Cy Twombly."
In the only written statement that Mr. Twombly ever made about his work, a short essay in an Italian art journal in 1957, he tried to make clear that his intentions were not subversive but elementally human. Each line he made, he said, was "the actual experience" of making the line, adding: "It does not illustrate. It is the sensation of its own realization." Years later he described this more plainly. "It's more like I'm having an experience than making a picture." The process stood in stark contrast to the detached, effete image that often clung to Mr. Twombly. After completing a work, in a kind of ecstatic state, it was as if the painting existed and he barely did anymore: "I usually have to go to bed for a couple of days."