Who said workouts cannot be stylish? Sarj Gym is here to prove otherwise! Sarj Gym is a brand created by couple James Conaghan & Sally Thompson. Following the upheaval caused by the global pandemic, in a time where home workouts were the only way out, the power couple set out with the goal of combining fitness and gym wear with the world.
This has posed a genuine test to the business,  especially while raising two young children,  since starting a gym wear brand with no gyms open has really put a driver onto focusing on high-quality products for a diverse range of activities, not just in a gym. But Sarj Gym knew how to make a difference which is clearly shown through its evolution until now.
What started off being only three female athleisure wear has today expanded to a range of over 30 separate items and recently even launched a  branch into menswear. If this is not a clear representation of pure determination, I don't what is.  
Furthermore, Sarj Gym has recently been signed as the brand new Bronze Category Sponsor at the 10th Annual National Reality TV Awards taking place on the 22nd of July at Porchester Hall, London.
"Sarj Gym is proud to sponsor the National Reality TV Awards, specifically the category of 'Best Reality Non-Competition Show'. We are a huge fan of British Reality Television and believe the reality shows created here in Britain, are those of the best in the world. We are so honored to be asked to sponsor this event, and we look forward to a brilliant future of working between ourselves and the National Reality TV Awards."                   -James Conaghan, Co-Founder, Sarj Gym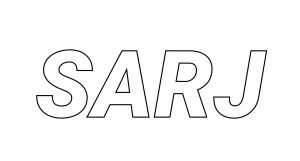 To find out more about Sarj Gym make sure you visit their
website 
and check out their social media handles