The UK's number one dry shampoo brand, Batiste is everyone's best-shared secret when it comes to refreshing hair between washes; removing excess oils, so your hair looks clean and smells great – leaving you feeling confident every day.
Batiste is proud to share a Dry Shampoo range inspired by nature, made with 100% natural extracts that harness the power of plants to give you refreshed hair in-between washes. Using nature's best to gently clean your hair without water, this range of three Dry Shampoos instantly restore lightness and volume, leaving you with naturally refreshed hair, with an invisible finish. Made with plant extracts never before used by the brand, delivering three divine yet subtle fragrances, these variants have been carefully formulated to complement your hair routine and style.
Batiste, the UK's No.1 Dry Shampoo has responded to research detailing the increasing number of consumers looking for products with naturally derived and organic ingredients within their beauty staples, rather than switching to new brands. 86% of women agreed that having a good hair day puts them in a better mood, and taking care of your appearance as well as your impact on the planet has never been simpler. Customer demands for visibility of brands that align with their ethos and values, instore, has never been greater. When it comes to refreshing hair between washes; removing excess oil so your hair looks clean and
smells great – as well as encouraging you to use less water through washing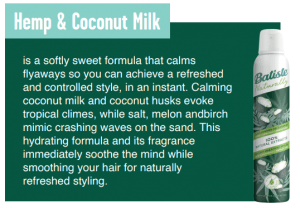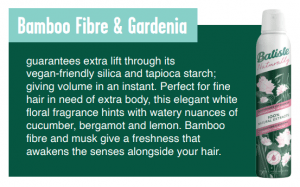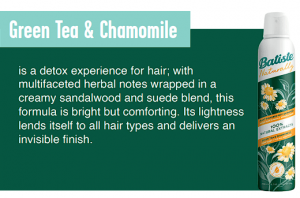 Batiste's newest innovation has you covered so that you're ready to face whatever the day throws at you.
Award-winning brand, Batiste is also among the list of bronze sponsors of the National Reality TV Awards 2022. Batiste will sponsor the Celebrity Personality of the Year category which was won last year by popular TV host, Susanna Reid from ITV's  Good Morning Britain. The National Reality Television Awards launched in 2011 and it remains the first and biggest celebration of Reality TV worldwide. In recent years, reality television has surpassed viewership globally going head to head with traditional soaps, films, and other tv programming and coming up top.
The 11th annual National Reality TV Awards returns to London on the 28th of July at Porchester Hall, London. Voting is now live at https://nationalrealitytvawards.org/voting/ 
For more information on Batiste, go to: https://www.batistehair.co.uk/ and check their Instagram @Batiste_hair