Katrin Leiber
, is the latest brand to be announced by the
National Film Academy
, as an Official Bronze Category partner of the
National Film Awards 2020
. The National Film Awards are taking place on the
20th of March, 2020
where
Katrin Leiber
will sponsor the
Best Actress (In A TV Series)
and
Best International Film
category.
Katrin Leiber
, fashion designer, is the inventor of the revolutionary and patented
KLick system®
for interchangeable heels for pumps and high heels, and changeable covers in the front and back areas of handbags.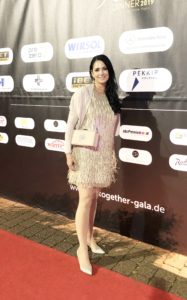 She comes from a renowned inventor's family with german-french roots. Her international career as a fashion designer started in 1996, after her studies at the famed
Paris fashion school ESMOD
, in which she finished with an outstanding distinction as best of the year in both
"style (stylisme) and model making (modélisme)"
. Following her studies, Katrin worked for well-known brands such as Kenzo and Nina Ricci in Paris, where she designed accessories and women's apparel. After a few years, she made the decision to become self-employed and founded the brand
Katrin Leiber
in Paris, 2003. In 2004, Katrin had already celebrated the launch of her first handbag collection. The extravagant and feminine shaped bags caught big attention, and within no time, were represented in many metropolises all over the world.
ELLE (Germany)
presented
Katrin Leiber next to Nicolas Kirkwood as a newcomer
in the fashion world. In 2008 she returned, after 15 years motivated by love, back to her hometown
Mannheim, Germany
. She set up a studio and started to work on new projects. Instead of only focusing on handbags, she devoted herself to the topic of shoes.
High heels and pumps moved to the center of her attention
, and led her finally to the idea to revolutionize the shoe market:
fashionable high heels and pumps with changeable design heels.
"I often didn't find shoes which I really liked the heels on. Often I had the suitable shoe, however was this one only limited usable for different occasions or personal moods."
says Katrin Leiber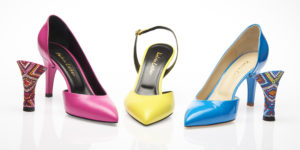 In 2018 Katrin Leiber was nominated for the
Arthur Fischer prize
and her invention of the changeable heel was recognized as an outstanding, inventive performance by the
Arthur Fischer award foundation
. In 2019 her work has been published in
Vogue, Tatler, Brides and Harper´s Bazaar
. Vanity Affair selected Katrin Leiber to be featured in the first Vanity Fair's Sustainable Holiday Gift Guide 2019. Her collection will be available in
November 2019
in pop up stores in
London
(B collect – 220 Westbourne Groove) and in
2020 in New York, Antwerp and Milan
.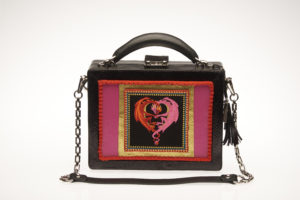 The noble heels, initially available in eight centimeter height and different widths, are perfectly matched in color and form to the respective shoe and convince with stylish and creative designs. Katrin Leiber
creates several collections per year
, consisting of different shoe and bag models with versatile heels and hand bag elements, which she presents in her online shop and her showroom in Mannheim, by appointment for custom built special products. The shoes are made of
chrome-free leather and very high quality materials
at a renowned shoe manufacturer in North Italy, which enable a maximum comfort of wearing.The
sustainable heels need 50-70 % less material
than conventional heels, which usually consist of plastic that's harmful to the environment. Block heels are made with a
special technic in a 3D printer
and need
70% less material
, what amongst other things increases the comfort of wearing. The shoes are thereby lighter. To find out more about
Katrin Leiber
, make sure you visit their
website
, and check out their
Instagram
!