As film fans gear for the results of next week's forthcoming National Film Awards. The  Malta Tourism Authority announce that it will be the official travel destination sponsor for the National Film Awards 2017. Taking place on the 29th March, the prestigious annual film awards will welcome the industry's biggest directors, producers, and A-list film stars. Famous for beautiful coastlines, picturesque beaches, and charming villages, Malta is a firm favourite with Hollywood producers. Peter Vella, MTA's UK Director, says "Malta's stunning climate, architecture, historical sites and natural beauty has made it a favourite location for the film industry. It has played host to the full spectrum of films and TV shows, including such greats as Gladiator, Troy, the Da Vinci Code and Game of Thrones, and more recently The Lake, Assassin's Creed and The Promise. Malta's contribution to the industry has been enormous."
2017 is set to be another big year for Malta as the island welcomes stars including Johnny Depp, Dame Judi Dench and Michelle Pfeiffer for the filming of Kenneth Branagh's adaptation of Agatha Christie's 'Murder on the Orient Express'. It is only appropriate that Malta will be sponsoring one of the NFA's highest accolades at this year's awards – The Lifetime Achievement Award – which has previously been won by acting royalty Dame Helen Mirren and Dame Judi Dench.
This year, British sitcom legends, Sir David Jason and Nicholas Lyndhurst from Only Fools & Horses are set to receive the covetable Lifetime Achievement Award at the annual award ceremony. Over 1.9 million fans have cast their vote across 18 categories to decide who they want to win each of the impressive accolades.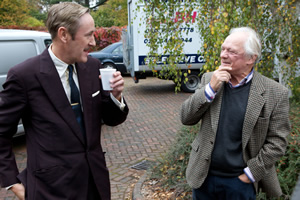 Malta is keen to welcome travellers interested in walking in the footsteps of their Hollywood heroes, which include the likes of Angelina Jolie, Emily Blunt, Brad Pitt, and A-list super-couple Daniel Craig and Rachel Weisz. With the trendy nightlife, turquoise lagoons, and growing gastronomy scene, it's no wonder that Malta is one of Europe's hottest destinations beloved by the world's most celebrated film stars.
For more information on Malta. Visit: www.maltauk.com