For Record Store Day, Play-Time (soundtrack movie label led by Thierry Wolf) reissues two vinyls by the French composer who died in November 2018: Francis Lai.
Francis Albert Lai  was a French composer, noted for his film scores. He won the 1970 Oscar for Best Music, Original Score and the Golden Globe Award for Best Original Score for the film Love Story. The soundtrack album went to No. 2 in the Billboard album charts and the film's theme, "Where Do I Begin", was a hit single for Andy Williams.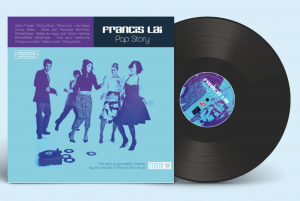 We caught up with Thierry WOLF, Chairman of FGL PRODUCTIONS (label Play-Time) to discuss this historical important new releases..
Your Play-Time label offers two rare vinyl albums by Francis Lai for the Record Store Day: "Made in France" and "Pop Story", can you tell us more?
Thierry Wolf : "We have prepared the reissue like the original album "Made In France". Our Product Manager Florestan Lejeune was responsible for ensuring compliance with the original work by having the content of the album remastered entirely from the original tapes. "Made in France" is therefore the precise reissue of the disc recorded by Francis in 1972. A tour of instrumental re-readings of works chosen by Francis himself. This album consecrating Francis Lai as the ambassador of French romanticism.
Six years after the success of "A Man and a Woman", which won him an Academy Award in Hollywood, Francis Lai proposed a work imposing an image of France through these superb compositions".
How long have you worked with Francis Lai?
We started working with Francis in 1989 and the first re-releases started in 1990, before I created the Play-Time label, dedicated to film music, of which Stéphane Lerouge has been the collection director from the start. It's also Stéphane who prepared reissues with the help of Francis, to whom we played the fruit of remastering work and who decided with us what programs to offer to the public. Since his death, we continue our re-issue process with the help of Francis's children and wife who are very attached to the defense of his work.
What was your relationship with the composer?
I think I can say that we were also friends. Our meetings were inevitably at the restaurant, often a Japanese because Francis liked them a lot, where we redid the world a little.This great composer was extremely modest. He didn't like being reminded that he was drowning in awards, that he was one of the best abroad selling French composers or that he had an incomparable talent as a melody maker. The composer was huge, but the man he was too! Francis was not tall in size, but talent and humanism cannot be measured with a centimeter … This is how Francis Lai was a great man! Those who have not had the chance to meet him will always be able to console themselves by rediscovering his compositions …
How did you choose the titles of the Pop Story vynil?
It was Stéphane who worked on the title selections that he then proposed to me and that we had validated by Francis Lai (who was still with us at this moment) during one of our usual restaurant meetings. Francis thought titles like "Saint-Tropez" were a little too easy. So we had to remind him that they were huge, very groovy and that everyone loved them. He was very critical of his work.
Do you plan to offer other works by Francis LaiFrancis Lai?
Our Play-Time label continue to works the Francis Lai repertoire. All these masters fruits of his creation that he had accumulated within his company (Editions 23). We therefore continue our work to bring out Francis Lai's works, with the help of his eldest son Fréderic and his wife Dagmar.
For more information. Please visit, the links below: