A troop of raincoat-clad peasants tramps through a damp forest, eyes locked on the ground. Wicker baskets hang at their sides; they carry sticks and knives.
They are mushroom hunters in Yunnan province, China, scanning for boletus, matsutake and ganbajun in what has become ground zero for China's wild mushroom trade.
China is the world's largest edible mushroom-producing country, responsible for about half of all cultivated mushrooms. From these damp forests in Yunnan thousands of tons of mushrooms make their way around the world every year.
And these days, visitors like me can join tour groups to catch an insight into the genesis of a trade route that ends with mushrooms on dinner plates in places as far away as Europe and the United States.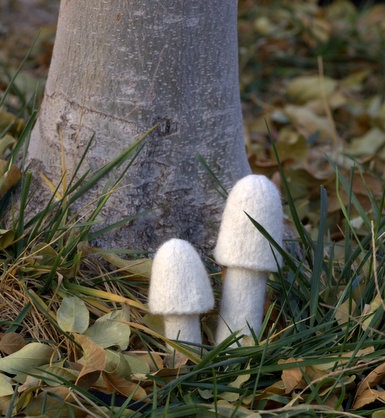 "Last year the supply was pretty bad [because of a drought], but this year the rain has been ample, and flooding hasn't affected the mountain where we gather mushrooms," says Winnie Wong of Luen Kee Hoo in Hong Kong, who has been importing fresh wild mushrooms since 2002 when mobile refrigeration and dehydration technology was introduced.
Wild mushrooms help supplement incomes for rural residents in Yunnan.
A good living
Zhu Zhao-xiong lives in a village on the outskirts of Nanhua in central Yunnan.
He buys fresh boletus at the market every afternoon and he sells dried boletus in the morning.
"I used to work in construction, but it was hard, and the business was unreliable — this is much better," Zhu says.
He earns about RMB 15,0000 per year on average, double what he made in construction. He bought a new mushroom drying machine last year and now a new wide-screen TV fills his living room.
He is one of many in Nanhua, the self-proclaimed "Mushroom Kingdom of China," who rely on gathering and processing wild mushrooms to supplement their incomes.
The average farmer's salary is only RMB 3,269 per year (US$500), according to China's Ministry of Commerce. 
Hundreds of different varieties of mushroom are sold at Yunnan market every day.
Fungal exports
Europeans are particularly keen on Yunnan mushrooms, responsible for a large chunk of the 10,572 tons of fresh boletus exported last year, worth US$71 million according to the Boletus Edulis Association of Yunnan.
Many of the more than 250 varieties of fungus sold in Yunnan markets also go to local people.
The capital city of Kunming boasts an entire street (Guanxing Lu) devoted to wild mushroom hotpot.
Local seasonal favorites include "the king of mushrooms," or termite mushrooms (which grow inside termite nests), white jelly mushrooms, greenhead mushrooms, ganbajun mushrooms and a host of varieties found only in Yunnan.
The province is also a major source of cordyceps, a type of fungus commonly used in traditional Chinese medicine.
For the last few years tourists have been invited to come and join in the search for fungi.
He Jiwen, the second youngest of five children, gathers mushrooms to earn money for his family.
Mushroom tourism
Daniel Winkler, a German-born mushroom enthusiast, is currently researching the importance of wild mushrooms in rural economies on the Tibetan Plateau of northwestern Yunnan.
In 2006, he started the U.S.-based MushRoaming Tours (www.mushroaming.com) to guide mushroom hunters through southwestern China.
"There's interest out there, but I would say mushroom tourism is definitely still in its infancy," Winkler says.
Hiking clubs and hostels in popular tourist destinations, such as Dali, Lijiang and Shangri-la, can help arrange trips.
Remote rural locations are also trying to capitalize on fungal tourism revenue.
Qiexi Village, northeast of Kunming, now promotes local mushroom hunting, while a guest house in the village of Shaxi advertises mushroom excursions in the Himalayan foothills of western Yunnan.
But Winkler warns that expert knowledge is essential for locating and cooking wild mushrooms. Some poisonous mushrooms resemble edible varieties.
A mushroom called "little white" killed hundreds of villagers in Yunnan during the past 30 years. And some edible mushrooms sold in Yunnan markets require thorough cooking to remove toxic elements.
Read more: Gallery: Where the world's wild mushrooms grow | CNNGo.com http://www.cnngo.com/explorations/play/where-worlds-wild-mushrooms-grow-984359#ixzz1SC7cAbyI