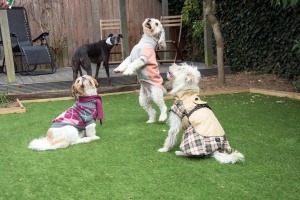 Whoever said that diamonds are a girls best friend never owned a dog. As owners lead increasingly busy life, they are becoming more conscious of the standard of care their pets are kept in while they're not around. Luxury and 5-star service is what is acceptable and this is the level of care I wanted for my own dog.
Reach for the Paws is run by Anita and her greyhound Lady T. After having her own dog walker and wondering if Lady T had been out and what was happening in her day, with minimal communication and zero photos, a redundancy in Anita's life provided the opportunity to run a pet services and online boutique.
I knew what was missing from the service that I was wanting, and this is automatically a given in my business to my customers. We are here to pamper your pet, providing interaction, love and glamour. We remember the small detail of checking if your dog will have a birthday while on their holiday and provide a birthday treat. Even a cake can be ordered for an additional cost for your dog to share with their new paw friends.
While out on a walk with your dog, going live to share the dog's walk and holiday has been a key part to the business. Building trust with customers and to show that their dog is out and about and this places a smile on any owner's face. Receiving photo's, a video to say hello from their dog and building a diary of their day and holiday. Owning a dog is a great health benefit to families and provides a strong sacred bond between humans and dogs, lowers human blood pressure, they get us out and about and we can even gain our own human friends from being out and about which is great for our own mental health and wellbeing.
When we arrive on our human holiday how good is it to see a sign with our name on to welcome us. This is the service that is provided to your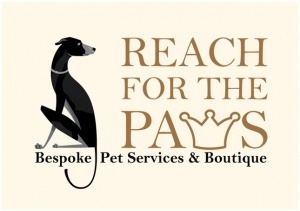 dog. You are greeted with a welcome sign for your dog to start their holiday. Further pampering service is through animal reiki. Having loved being pampered myself with human reiki it was time to provide this great healing for animals to benefit. Our day to day stresses can be absorbed by our animals. One free reiki session to the paw guests that are staying on their holiday. This helps the animal with any anxiety and settles them quickly into their holiday home. All animals can benefit from this and the business is now expanding into reiki to horses.
We are a nation that loves and very proud of our dogs and some choose to add clothing style to their dog's life. This may not be for everyone to have items of clothes on their dogs. Those that do like this then there is a choice. Having a relaxing day in on the sofa or for being out in the rain on walks, there are outfits from bathrobes, fleeces, jackets and jumpers. Escape for a weekend away and there is a designer dog travel bag for your dog to safely go inside for you to carry around there is even space for a few of their own outfits. Our range of fashion has featured in luxury magazines and my items are imported from America as I like to offer a different quality, look and style. We run dog and human fashion shows and work with different dog charities to further understand the sacred bond we have with our pets.
Lady T and the team look forward to sharing our new range of fashion and new paw-some friends we meet.
www.reachforthepaws.uk
Instagram @reachforthepaws
Facebook @Reachforthepaws
Twitter @reachpaws